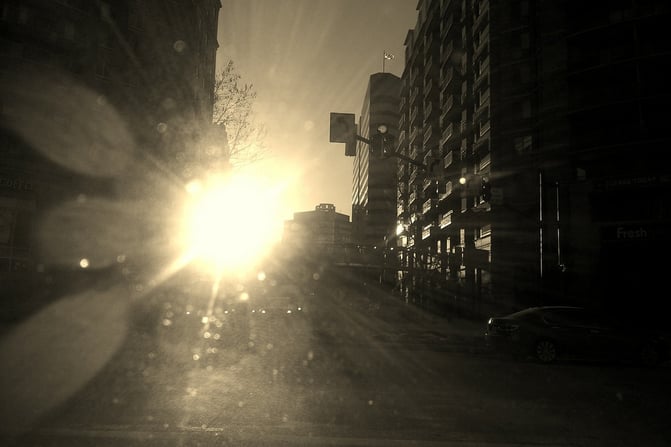 Automotive window tint has existed since the 1960s and is a popular choice for car owners who personalize their vehicles. Many consumers may be attracted to the sleek appearance of tint, but manufacturers such as Eastman Chemical Company, which makes LLumar® window film, haven't built their success on the cool factor alone. So why has nearly half a million dollars in window tint been purchased through the Insignia system in 2015? Window film acts as a protection accessory, provides for a safer driving experience, and contributes to going green.
Protection
Americans spend a lot of time in their cars. One buyer may be most interested in preserving the quality of his leather seats, while another is concerned with protecting his children from overexposure to harmful ultraviolet (UV) rays. Installing window film on your vehicle can actually protect driver, passengers, and the longevity of your upholstery. Tint reduces the amount of light passing through the glass, cutting down on UV ray exposure to anyone inside. Those powerful rays can also fade, warp, and crack the vehicle's interior. When windows have a high-quality protective film, 99 percent of those rays are blocked, giving both car and driver protection from the sun.
Safety
Driving directly into the sun is unavoidable, and can be deadly. Window film cuts down on glare and helps shield a driver's eyes. Tint, combined with things such as polarized sunglasses and reduced speeds, can play a major role in reducing traffic death due to impaired vision from the sun's glare.
Environmental impact
A parked car in the summer can reach internal temperatures of 172 degrees Fahrenheit after only an hour. No one wants to strap a baby in a car seat at that temperature, or endure driving with a steering wheel that's painful to touch. So, we crank the AC up as high as it will go for as long as it takes to cool the temperature significantly. The problem is, blasting your air conditioning reduces your car's fuel efficiency. That inefficiency leads to a host of problems for our environment that window film can significantly reduce. Window film provides energy savings by reducing internal temperature, thereby reducing the amount of air conditioning you need to run.
Insignia Group is proud to be in a strategic partnership with one of the world's best-selling window film brands, LLumar. Together, we offer dealerships a high-quality solution for one of their customers' most desired personalization items.