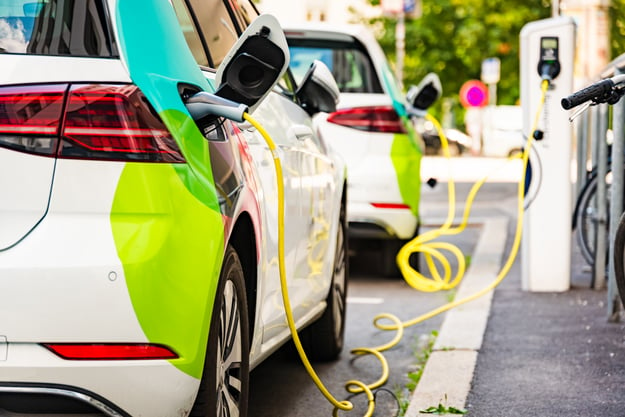 The growth of electric vehicles is only increasing, and this growth will touch every department in the dealership.
Specifically, the service department.
Electric vehicles have fewer mechanical parts, which means fewer after-sales service appointments. And while consumers will undoubtedly continue to have maintenance issues, electric vehicles will significantly lessen foot traffic in the service department.
Overview of Electric Vehicles
All-electric vehicles (commonly referred to as EVs or BEVs) use a battery that powers one or more engines instead of gasoline. These battery-powered vehicles require a charging station that can "fuel" a car in as little as 30 minutes, or up to 12 hours, depending on the size of the battery.
It isn't simply Tesla that increased the desire for emission-less cars. The electric vehicle market has increased significantly from consumer interest, strives towards sustainability, rising gas prices, and a global pandemic—with a massive boom over the past two years. First, the pandemic boosted electric vehicle sales despite the low inventory, and now, with rising gas prices, the EV industry continues to grow rapidly. As a result, the global electric vehicle market was valued at $6.6 billion in 2021, and the EV industry market value is projected to hit $354 billion by 2028.
According to Google Data, mobile searches for EVs have grown by 85% in the past two years. Moreover, with the government shifting towards 50% of car sales being EVs by 2030, it seems electric vehicles are here to stay!
What Does The Mean for the Service Department
EVs don't have as many mechanical parts as a gasoline engine would require. Lacking oil, belts, and most of the typical "freebies" (that dealerships offer customers, enticing them to come in for service maintenance), electric vehicles eliminate the need for customers to return as frequently.
EVs have less wear and tear per mile traveled than ICE (internal combustion engine) vehicles. Whereas servicing EVs requires more complex maintenance. These service complexities could result in more billable service hours, which could increase revenue per hour.
Albeit, electric vehicles require less maintenance work and fewer moving parts, so the service department will receive less foot traffic. In addition, dealerships will need to invest in proper maintenance training for electric vehicles and purchase high-voltage tools.
This shift will also create obstacles for the front end of the dealership. Salespeople will have to brush up on their knowledge of electric vehicles. Since EVs are more expensive, salespeople will also have to adapt their sales process.
All hope is not lost for the service department, though. Electric vehicle maintenance will still consist of tire, brake, suspension, steering, and electrical services.
What You Can Do to Prepare:
Dealerships nationwide have already begun adapting to the rise of electric vehicle sales.
They say an old dog can't learn new tricks—however, many old-school dealerships have risen to the challenge!
Don't Despair, Prepare
Invest time and effort into service training based around electric vehicles now, so your dealership isn't playing catch-up later. It's easier to slowly move your employees into new information instead of throwing them into the line of fire. Even an hour a week dedicated to opening up a conversation about EVs and how your dealership will be going forward is a step in the right direction. It isn't easy to get everyone on the same page; however, you'll thank yourself in the future.
Pivot to Accessories
As dealerships heavily rely on the service advisors to keep their customers around, you'll have to get clever with what you can offer outside of four free oil changes with new vehicle purchases. An easy alternative is to work with the sales and parts departments to offer accessories to in-store and online customers so that they have to get them installed. This will bring more revenue to the dealership and accessories will never go away. Both electric vehicles and ICE vehicles will have accessories for customers to purchase.
Get the Right Tools
EVs are notoriously expensive. Not only the vehicles themselves—all the tools needed to service them are too. If your dealership isn't in a place to buy many costly high-voltage tools, begin allotting a portion of your budget towards these soon-to-be commonplace items. Do your research on how much it will cost to implement an EV-friendly service department so your dealership is ahead of the competition.
Stay Ahead of the Curve
Stay in the know about the EV market and its progress, so you aren't the last to know. Look into your competition and the dealerships around you—for example: are they already selling EVs, do they have tools for it, and their strategy for electric vehicles. Worst-case scenario, your dealership is the smartest kid on the block, which is never bad!
Electric vehicles are here to stay. What changes is your dealership making for the rise of electric cars?