Buying a car. Most likely, the second biggest purchase you'll make in life. To better understand that statement, think about the first biggest purchase. Consumers that are buying a home spend months, if not years of their time researching and searching for the perfect fit for their life and family. Incredible amounts of money are spent on homes in America. Countless television series are dedicated to home buying, improvement, restoration and the like. Home furnishing stores are everywhere, making it possible for every room to express an individual's unique style. Is a car buyer all that different?
While budgets span a tremendous range, a person is looking at spending thousands of dollars no matter how you slice it. Truly, a significant investment. In this technology era,
almost all car buyers
are doing their own research before coming in to the dealership. That means before a customer walks in your store, there's been some level of time commitment on his or her part. Your customer intends to spend thousands of dollars, and that person has invested time and effort in order to know his or her options. Draw the conclusion that this is an important buy.
Just as with a home, no one wants to buy something he won't enjoy. Just as with a home, buyers come from all walks of life and want the ability to express their uniqueness. People love to personalize! Why are dealerships pitching the same type of vehicle personalization to all different types of people?
Subaru has done a fantastic job capitalizing on the outdoor enthusiast. Jeep markets to the adventure-lover. BMW appeals to the business professional. The list goes on, and these are all profitable markets. But if you want me to personalize my vehicle, you're not going to woo me with roof racks or a remote start (unless it comes in pink glitter). I'm not alone here. The people walking in your dealership are Star Wars diehards, stay-at-home moms, bird watchers, teenage girls, pastors, road warriors, morticians, and farmers (and that's it, I've covered it all). Don't try to sell window tint to someone who doesn't care about window tint. Star Wars sunshades are literally on Amazon's top ten automotive accessories list. As is the car window shade (hello mother of two), and an orthopedic seat cushion (for you, road tripper). Are those in your catalog?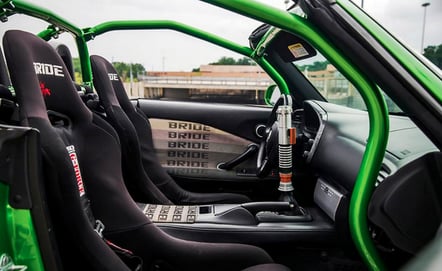 You might not get rich selling Yankee candle air fresheners or
flux capacitors
, if that's all you sell. The point isn't to change your product offering—it's to add to it. We'll never see the day when your customer stops buying performance, maintenance, and protection OEM and aftermarket accessories. Frankly, we don't want to see that day. After all, that's what we do, and it's profitable. Just know that your consumer comes in many forms, and that your customer is buying Spiderman shift knobs and chevron seat belt covers somewhere. That's right—love it or hate it, car lashes are an actual thing. Everyone wants to love their car, and every dealer wants a delighted, repeat customer. The next time someone asks a friend, "Where'd you get your steering wheel desk?" let the answer be your dealership instead of eBay. Expand your customer satisfaction horizon and think outside the box.
By: Whitney Williams, Social Media Expert