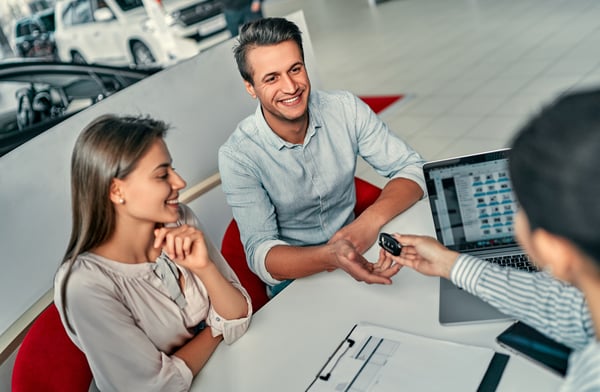 One of the biggest hesitations to selling accessories is the fear of messing up the hard-earned car sale. The truth is accessories are simply a continuation of the well-established process, and something as easy as word tracks can put accessory sales on autopilot.
You'd never wing it or fumble through a car sale. Why treat the multi-billion dollar accessory industry any differently? When dealerships stand to make more money on accessories and F&I products than they do selling cars, it's critical that dealers get add-ons right.
Hot Sellers Make the Perfect Introduction
Utilizing word tracks can help you transition from the car sale to the accessory presentation, which should occur during F&I wait time.
Here's an example word track using a lead-in product to introduce the presentation.
"Great choice on your new _____!
You can take a seat here at my desk. I'm going to grab you some coffee and get your paperwork moving.
While we're waiting, I've pulled up the most popular accessories for your car so you can take a look at them while you wait. (Hand the customer an iPad or spin your laptop around for easy browsing with your lead product displayed.)
Most customers who buy a _____ add window tint to keep the interior from fading and to block UV rays. Any of these accessories can be rolled into F&I. You can treat this just like Amazon and add anything you're interested in into your cart. Then we can go back and edit it later before you commit to anything.
I'll be right back with your coffee."
At this point, you should leave your customer to shop in a low-pressure and comfortable environment. On your return, you can work with your customer to finalize their cart and close the sale.
Insignia Group Can Help
Selling accessories can be easy, especially with the right tools in place. If you're not selling accessories at the point of sale and online, contact us for a demo. Our digital accessory selling system has helped dealerships sell more accessories, reduce turnover, improve cross-departmental communication, boost CSI, and add front-end gross for more than twenty years.