It's that time of the year--all the dealerships are doing all the Christmas things. Commercials for huge winter savings bombard the senses as the shiny 2018 model twinkles behind a fresh coat of wax. Perfectly placed trees and lights line your showroom entrance. General managers dream of sugar plums and end of year profit margins. What does the Christmas spirit mean for your vehicle personalization center? This is a season of going all out- from inflatable Santas on the roof to credit card debt (you can do better, America). It's time to get a little crazy.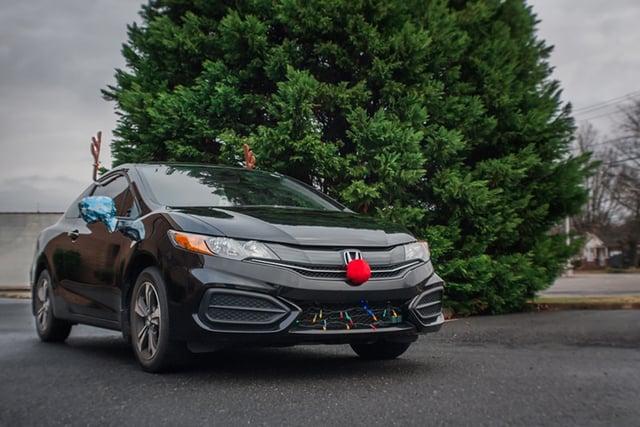 You need antlers in your catalog | If you're a dealer who proudly pulls out the antlers and big red nose for your lot every year, we salute you. We'd like to suggest that anyone who throws shade at your Christmas personalization game should not be invited to the company party (or should receive the world's most generic gift--a candle). You don't need that kind of negativity in your life! Adorn those showroom vehicles with the biggest, reddest nose you can find with pride. If you think it's tacky, ask yourself if Amazon was tacky when they rated the antler package their best seller in this category? (Amazon was too busy counting their dollars to 1 trillion to give a comment.) Oh yes, your customer is buying these. The only question is from where?
Don't forget the bow | The ginormous red kind. The one that sprawls across the hood of the widest Dodge Ram money can buy. You see, if your customer is going to "I think I'll buy an automobile!" level with their gift giving, there is no stopping short of a big, honking gift bow. Oh that's not really a thing, is it? The Car Bow Store begs to differ.
Get a little creative | Wreaths for the grill, elf legs for the trunk, and pine scented air fresheners are just scratching the surface of possibility for a holiday themed accessory catalogue. But maybe Christmas, we think, doesn't come from a store. Maybe Christmas, perhaps, means a little bit more? Why not show some Christmas kindness and donate a warm blanket to a local shelter for every personalization order this month? What about using a percentage of your profits to raise money for Toys for Tots? Your customers will appreciate the opportunity to lend a hand and what happens then, they say? Your Dealer Principal's heart may grow three sizes that day.
It's simple--don't be a cotton headed ninny muggin. Just drink the Kool-Aid on this one. It tastes like peppermints and happiness.