It's shaping up as another big year for the auto industry. If projections hold true, it'd make six consecutive years of growth for car makers. Experts forecast 17 million sales for 2015. This bright outlook extends across the board for auto makers. Yet, one stands above with an incredible boost in first-quarter operating profit.Fuji Heavy Industries, parent company for Subaru, reports a 70% spike.
U.S. sales fuel Subaru's stellar quarter. June sales increased 15% in Subaru's biggest market. Fuji Heavy's boosted numbers surpassed projections Thomson Reuters set for the company.
Subaru doesn't even rank in the top 15 globally. How then did it post numbers reserved for top luxury brands such as Ferrari and Porsche?
A weaker Yen has created a competitive edge for Fuji Heavy considering the company ships 80% of vehicles made in Japan overseas. In Q1 Fuji Heavy reports 140,400 vehicles sold, 28% more than Q4 in 2014. It's a big win for the smallest of Japan's eight auto makers.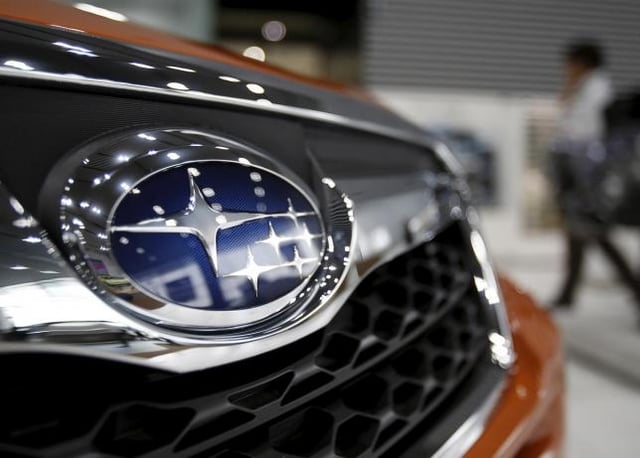 Subaru drives Fuji Heavy's profits
Never heard of Fuji Heavy? You're not alone.
The company's origins date to World War II, when it built Japanese war planes. Fuji Heavy primarily earns its profits from Subaru, its auto-making arm. It's not just an American phenomenon for Subaru. Its Chinese sales rose 20.1% in the past fiscal year, too.
Here are two key components.
Simplicity
Many car makers sustain a complex line of engines. Subaru incorporates a couple of engine designs it refines every few years. Subaru doesn't stop there. It plans to migrate all vehicles to one platform to allow ease of sharing in engineering and parts. This low fixed costs business model allows for a robust return on equity.
A weak Yen
In 2012, a U.S. dollar traded at 76 yen. Today, it trades at 117 yen. That means Subaru profit in its most profitable market carries a larger value back home. That softens the blow of a 14.5% decline in sales in Japan during three quarters of the past fiscal year.
The plan looks like a winner. Fuji Heavy saw a 55% boost in stock value in the past year.
What can we learn from Subaru?
Subaru also benefits from a run on its specialty – crossover SUVs. Fuji Heavy understands its advantage in the market. It reinforces its stronghold with efficient business practices.
When profit margins shrink, opportunities such as vehicle personalization stand out. What can your staff try to boost CSI scores and create rapport with your customers?
Your dealership can strengthen areas where others might struggle. One way might be to personalize vehicles with accessories before they drive off the lot. Find out how Insignia can help.

Sources

http://www.autonews.com/article/20150731/OEM/150739961/subaru-parents-operating-profit-jumps-70-on-surging-u-s-sales

http://www.fool.com/investing/general/2015/07/31/strong-subaru-sales-and-a-weak-yen-boost-profit-at.aspx