Insignia is passionate about vehicle personalization. We believe in offering personalization in the showroom at the point of sale, when your customer is excited about their new purchase and eager to make it their own. We also believe in fully servicing every customer that interacts with your dealership in-person or online. In the quest to offer a total solution to dealerships in the accessory game, we set out to cover new territory.

Consulting with dealerships nationwide, we often hear dealers ask about moving beyond the in-store presentation to an eCommerce parts store. In an effort to meet the full scope of dealer's needs, Insignia linked arms with RevolutionParts to expand the accessories force field together.
RevolutionParts is the fastest growing parts and accessories eCommerce solution for auto dealerships. Dealerships now have the unique opportunity to benefit from the partnership of an in-house personalization model and an online sales solution working in perfect harmony.
So what is the benefit of covering the point-of-sale presentation and offering your consumer the ability to order online? We believe this approach caters to the masses in a way dealerships don't want to miss.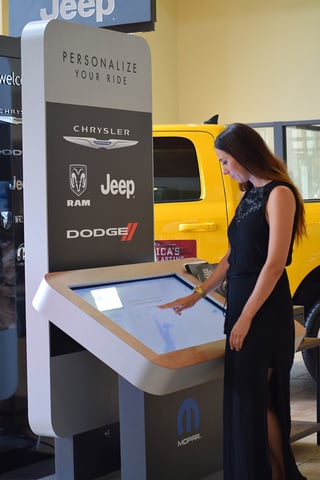 In Store | The overwhelming majority of consumers are thoroughly researching online before ever entering your dealership. Digital is no longer a choice for dealers who want to stay competitive. For that reason, it's absolutely imperative that dealers present their car buyers with a sleek, modern interface to present personalization at the point of sale.
Your customer expects modern technology, and in some cases is already knowledgeable on their options to customize his or her chosen vehicle. If you've accessed any popular website recently, you know that advertisements customized to fit your search history and prior online purchases popup at every turn.
Research shows presenting an individual with personalized options while he or she is in buying mode is the most effective way to incur a transaction. Personalization in the showroom is no different. The customer is excited about their new purchase, already in buying mode, and ready to personalize their vehicle from the convenience of your user friendly interface on desktop, kiosk or mobile device. Roll those accessory purchases into F&I with a manageable monthly payment and you've got a satisfied, repeat customer.
Online | Consumers are making their purchases online at a rapidly growing rate. The demand for eCommerce is massive and automotive parts are no exception. An online shopper may have never crossed the threshold of your showroom doors, may end up on your dealership website searching for a part or accessory.
Consumers know they can trust OEM parts and accessories over a generic part from a third party seller, and they'll find your dealership website one way or another. Word of mouth is not dead--it just looks a little different these days. A satisfied customer referring a friend, or a healthy amount of online reviews can land a digital shopper you've never met at the front door of your eCommerce site.
That's only the beginning-- shopping is king. The customer who shopped on your lot or in your parts department becomes familiar with your website and is educated on your online parts store to be accessed at any time. Presenting personalization at the point of sale even sets the customer up to be a prospect for your eCommerce store in the future.
By introducing add-on items, you open the door for future purchases through your dealership. You can guarantee if a consumer is looking for an online part or accessory, they'll find it and buy it. If your dealer website isn't offering the option to buy off your website, you're missing an enormous share of the market.
Personalizing at the point of sale and offering an easy to use online store don't compete with each other--they go hand in hand. Is your dealership capitalizing on every opportunity?