Insignia customers, you are about to be upgraded.
The Insignia's OnTrack 1.0 will release August 7 and you're going to love what you see. A sleek, modern new interface that's easier to navigate-because you deserve it. We're proud to introduce OnTrack to our Toyota dealers who number close to 20% of TMS stores. This is our first step towards a complete revamping the system to more closely align with your showroom process.

You read that right--when our customers give us feedback on what isn't working in real-life accessory presentations, what would make vehicle personalization sales that much better, and what this system looks like in a perfect world, we listen.
Step one in a series of improvements to come is the impressive new look of your presentation tool. Your millennial customers will appreciate this contemporary look displayed on your kiosk or desktop screen. If the accessory coordinator's office gets backed up on a busy day, just pull up the system on your mobile device. Yep, OnTrack is now mobile-- you can present personalization and process an order anywhere.

You'll enjoy the increased ease of use, as we carefully decluttered the initial presentation screen making it more clear on where to start and what to do next. You asked for larger configurators and we delivered. You wanted the configurable assets displayed prominently as something the customer would see first. We did that. This streamlined layout allows the dealership customer to get a true shopping experience, as the need for a formal sales presentation decreases even further.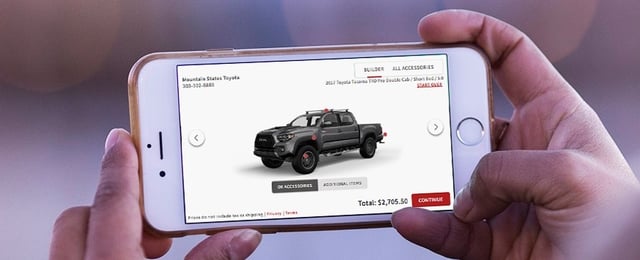 Our dealers continue to refine their vehicle personalization process in the showroom and we're with you every step of the way. We're launching into a rework of the accessory selling system to completely marry the tool you use with the process you've crafted. Our goal is to make your personalization process easier, better, and more profitable.

Insignia interface is of utmost importance to us, so we're baking proven best practices right into the system--starting with the look and going mobile. After great success with Volkswagen and Jaguar Land Rover using the new interface, we couldn't keep it to ourselves anymore. Welcome to OnTrack!
Want to get on board with OnTrack? Get your system today!