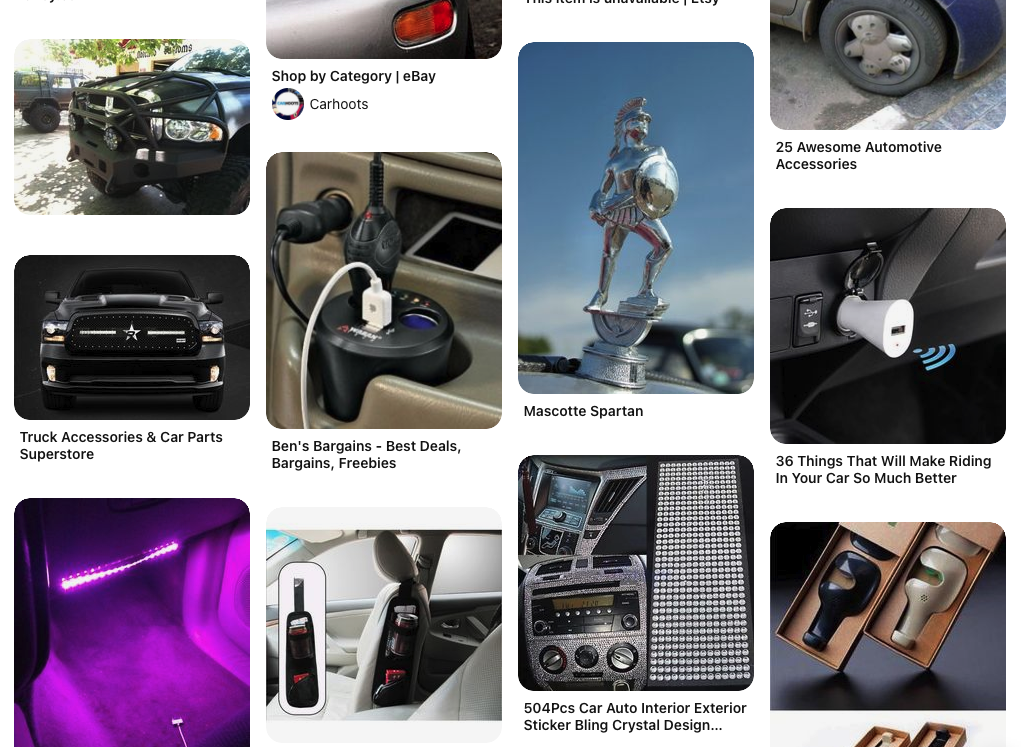 Pinterest represents a great way to share photographs and collections of interesting content online.
Bookmarked pins and collections can be assembled through the social network, which can also be used as an app on iPads and iPhones. Many businesses use this platform as a way to allow customers to do some virtual window shopping. It's also used as a way to spread ideas about how their products can be used by the buyer, and it's a free form of advertising.
Can craft-heavy Pinterest work for selling car accessories? What about the website's visual side makes it appealing to dealers and aftermarket companies? The following list suggests some benefits of using Pinterest to sell Vehicle Personalization.
Stand Out From the Crowd
For 23% of car buyers, the availability of dealership accessories influenced their decision of what store to buy a car from—so show what you have available! According to Influencer Marketing Hub, Pinterest has 445 million users each month. With that many people using this form of social media, there are sure to be many searching for car accessories. You want to make sure you stand out to the users who are searching for you. Pinterest is all about aesthetics! Dealers can use the site as a way to provide interesting photographs in a colorful format. Advertised Vehicle Personalization can include unique customized parts, rims, or examples of lighting upgrades (from LED interior lights to LED-lit OEM emblems) and more.
Community Building
CSI scores are a major concern for all dealers. You are constantly working to make them as close to perfect as possible. Many forget the power of online community when working to improve CSI.
Pinterest can build a community of loyal customers dedicated to your dealership and personalizing their cars. You can use pinboards to market your store brand, vehicle models, or a particular dealership accessory you want to highlight. Ensure to include links to your Pinterest boards in all your email communication to gain a following!
Specialist Selling
One of the main strengths of this site is the ability to sell to specialist audiences. The Pinterest brand can be used to find audiences through keywords around specific accessories and vehicles. Emphasize picking the right keywords and using tags to draw people to your content. If you're a Ford dealer who sells OE accessories, you can specifically target loyal buyers who are likely to customize their Mustang.
Virtual Storefront
Many companies even use Pinterest as a virtual storefront. Dealerships can use appealing aesthetics and attractive combinations of car accessories to grab attention. Is your digital retailer set up to sell accessories online? If so, you can use Pinterest to convert sales. Put your best dealership accessories and parts on a board with a link to click through to your website and buy.
Planting Seeds
Pinterest plants seeds of ideas, showing your customers what can be done with car accessories. Think of it as your online hero vehicle, and be creative with your before and after photos! The average car buyer doesn't know all the personalization options that are available. Your dealership can educate and entice them by showcasing a variety of accessories on all different types of vehicles.
Set Up "Best Of" and Themed Lists
Another strength of Pinterest is the ability to curate "best of" lists and themed collections. Brand fans, prospective buyers, and loyal customers will be attracted to these boards. You can also cross-promote your boards on other social platforms to spark discussions.
Accessories and parts can be one segment of your page, where you showcase collections that you've set up to highlight the whole brand. Putting them into the context of car culture through vintage pictures and other photographs can increase appeal and exposure across other sites. Prospects could discover a link to your Pinterest on sites that are related to the topic.
Simplify Accessories
One of the most important things to remember with Pinterest is to keep things simple, with concise information and clear visuals. Once you entice someone from your Pinterest board, ensure you are set up to continue the sales process smoothly in-store and online.
Insignia Group Can Help!
Insignia Group is the leading provider of digital accessory-selling platforms nationwide. For over twenty years, we've been helping dealerships sell more accessories at the point of sale, improve interdepartmental communication, increase front-end gross, and boost CSI scores.
In today's car-buying world, you need to be able to sell online. That's why Insignia Group has integrated with major digital retailers to help dealerships cater to customers no matter how they shop.
Ready to get started? Contact us today.