Even the small cars need a touch of pizzazz.
Compacts cut a metropolitan profile these days. In this market, it's not enough to be fuel-efficient. Popular small cars such as the Chevrolet Cruze, Honda Civic, and Ford Focus sport sleek body lines. Those lines feature popping colors and racks to support all sorts of outdoor habits.
Which customization and accessories, dealer or aftermarket, will let you ride like a boss? Here's a guide to a few.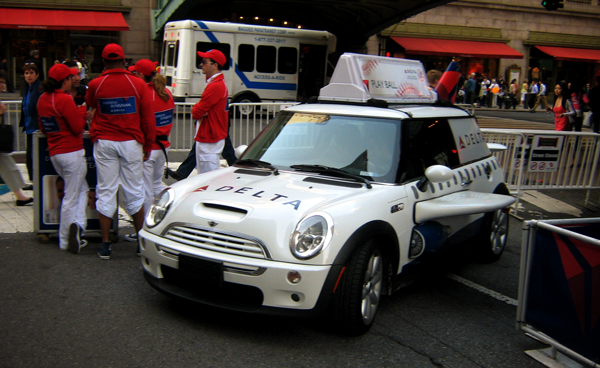 Considerable add-ons for small cars
Alloy wheel locks
They provide extra protection for wheels and tires –and look fresh doing it. They're weight-balanced to the factory lug nut; you won't need to rebalance. They'll shine for years and safeguard the car's lug nuts from corrosives.
Benefit or bling: Benefit, with benefits. Wheel locks protect alloy wheels from theft. They also contribute to the allure of having alloy wheels in the first place.
Auto-dimming rearview mirror
Small-car drivers need a lay of the land behind them. Taller trucks and rigs can blast headlights right in a car's cabin. It's an awful glare that could render a driver blind in an instant. Standard rearview mirrors have a switch to avert the lights; the auto-dim feature carries that out for you.
Benefit or bling: Benefit. On first sight, it's tough to distinguish this from standard equipment. Auto-dimming rearview mirrors often have an integrated compass, although GPS units render those obsolete.
Roof-Mounted bike carrier
Be careful near bridges and overpasses –and fast-food drive-thru windows. A roof-mounted rack keeps a bike out of sight, not out of mind. Rear-mounting bike racks work best on bigger vehicles. Sightlines for the driver aren't a concern. Select from fork, frame, or wheel-mounted racks.
Benefit or bling: Solid benefit. A small car needs efficiency of payload. A rack places the bike in the middle of the roof. Bling plays a role, too, though. The world knows you're hitting the trail.
Steering wheels
Some drivers find a comfortable drive in a three-spoke sports wheel. Taller drivers might struggle with standard steering wheels leaving no leg room. Seasoned drivers swear by the heightened feel for the road they get with an aftermarket wheel. Dealer options include colors that match accent paint.
Benefit or bling: Bling, at first glance. Leather grips and ergonomic design can create the feel of improved handling. If you go with aftermarket, it's likely for the look.
Personalization key to car-buying experience
Accessories lend a car personality. It could be the function of an auto-dim rearview mirror or the flash of a sporty steering wheel. That personality comes through from the prospective owner. Put a system in place to maximize visualization of accessories for buyers' tastes.
Toyota of Braintree, MA put itself on pace for $10,000,000 in vehicle personalization in 2016. How did they do it?