Much like Vegas itself, the SEMA Show represents an amazing display of human endeavor and once again the folks of the Speciality Equipment Market Association (staff and management) executed another amazing show #SEMA16. Well done!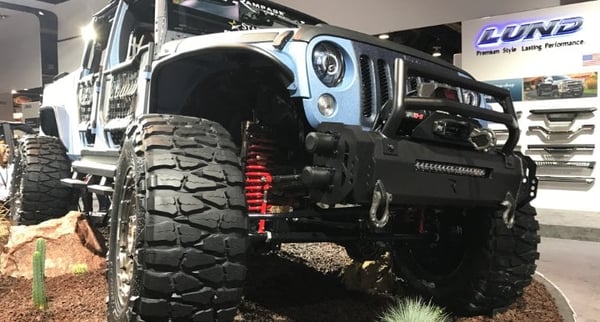 This year's show had much of the same jam-packed feel as last year's show. There were always more things going on at once than you can possible see and you need to divide a concur with your team. Last year, set a record for the number of vendors and I have to believe based on how hard it was to get from one hall to the other, that this year set an all-time attendance record.
All of this represents the breadth and depth of the Specialty Equipment marketplace and makes Vehicle Personalization again the perennial underestimated driver of car sales in America (and abroad). At some point (hopefully soon) the new and used car business will reach a tipping point where the Personalization Manager is seen by every car buyer right before the F&I Manager.
Here are some of my observations from this year's show:
LIGHT ME THE WAY
Lighting is becoming the new trend in all-thing-accessories. Light bars, spots, interior lighting were all-over almost every vehicle on display. Captured here was the Professional Restylers Organization's (PRO) display vehicle. This is going to be a fun trend to watch because lighting is functional as well...well cool. Of course, you will need 6 batteries if you don't want to leave your Jeep running during the beach or bon fire dance party!
FEW HUMMERS - LOTS OF TRUCKS AND WELL...JEEPS...
We are absolutely trending back in the beefy SUV/Light Truck direction of vehicle fashion...and the folks at JEEP are just eating it up. Unofficially, it had to be the most displayed vehicle with "Trucks" as a strong second.
Also, "get your lifts out." I didn't see many trucks or SUVs (and again I mean JEEPS) that were not lifted - plus size wheels and tires.
GRAVITY
Lastly, on the business side of things, I see gravity at work in the SEMA industry - consolidation is happening, right now. In 2017, I expect that it will only get bigger and more fast paced. There are many nameplates converging together under one banner and floor space of the likes of LUND and Truck Hero, just might rival that of the footprint of GM or Ford next year. And the rush to retail is growing among the nameplates. I am predicting that 2017 will be a weird year for "hook ups" in the industry.
Did you go to SEMA? What were your observations?