The original. The 60's coined the phrase "Do your own thing", and the 1964 debut of the Ford Mustang made personalization an American legend. If Mustang hype lives on 52 years later (and Mustang hype does live on), imagine the ripple effect that personalization has had on the competition. We know Mustang and Camaro have been competing for years, but aren't all OE's in competition to produce the top selling vehicle?
Mustang was born of demand for personalization, and we're all looking to replicate success. So what can we learn from vehicle personalization's mama, the pony car Mustang?
LISTEN TO THE CONSUMER | The good people of the 1960's spoke and Ford listened.
Any good sales person knows you should listen more than you talk. What did you learn about your customer when you were introduced? What about during the test drive? Would his business benefit from an organized trunk? Are her initials monogrammed on her purse? What's in the car your customer drove to the dealership? A car seat? Jackets? Could they use a coat rack? A cargo area net? A custom plate frame? Headrest DVD player? Do you even have to sales pitch personalization? Listen to your customer. Pay close attention to what the customer says, carefully observe, then make suggestions based on what you learn.
MAKE IT GOOD | Mu-flippin'-stang.
It's one thing to give the customer what they need, and it's another thing to debut the Mustang. Look at these people. They're both giddy and mind-blown at the same time. Is that red wall-to-wall carpeting? Yes. Yes it is.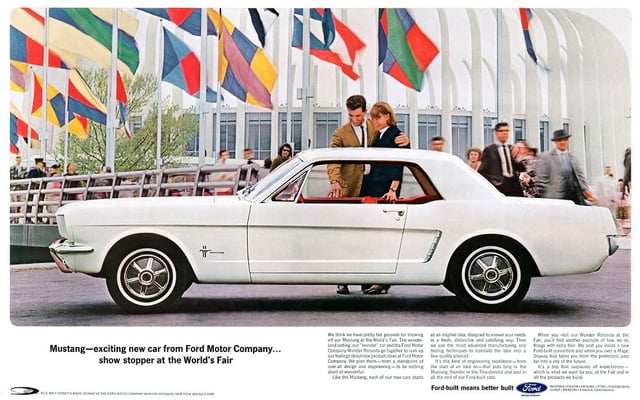 Sweeten the deal. I'm not talking about giving anything away for free. Do you think Ford passed out free Mustangs? Listen to your customer. Show him what type of personalization will dazzle his socks off, and make it easy to obtain by rolling it into financing with monthly payments.
So is there anything you can learn from vehicle personalization's mama? Shame on you. You can always learn from mama. Listen to your customer, and make it good.
Now go practice what you've learned, make good choices (and wear your seat belt)
--Mom
For more information on personalizing in the showroom, request a free demo with Insignia!
By: Whitney Williams, Social Media Expert at Insignia Group