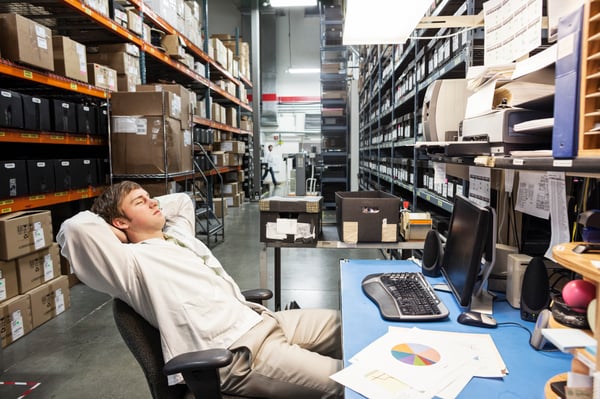 We see you fixed operations manager. Over the past few years, you overcame continual obstacles. Nobody sent you a fruit basket or offered you a break.
No, it was just phone call after phone call from disgruntled consumers and distributors, followed by management meetings asking you to squeeze out more profit, more ROI, and better CSI.
Then, an even more pressing need to increase revenue was looming amid inventory shortages and plenty of backorders.
Parts and service managers face the biggest challenges of growing service profit, all while monitoring third-party resources' ROI. And. It's. Stressful.
Today, the question is, can a dealership create a successful parts department and a thriving service lane—in a post-pandemic world—without working their managers into the ground? The answer is a resounding yes, and it's found in digital retailing.
I

ncreasing Profits in the Parts Department With
Digital Retailing
Selling obsolete parts online
Obsolete parts are frustrating. Whether it happens because of errors, low sales, or abandoned special orders, it's a thorn in every parts department's side. There are a few ways to take those lemons and make lemonade, which every parts manager can do them.
Online sales channels clear out stagnant inventory. Post your parts for sale online or in a bundle to appeal to customers. If your digital retailer allows for accessory sales, you can create custom accessories packages that include parts you need to move. Put those in front of the right vehicle buyer, and you'll clear your stockroom faster.
The internet opens the floodgates for potential customers needing a specific part for a DIY project, and networking with other dealers or vendors creates the opportunity to sell parts to them. Use Facebook to find groups to offer specialized parts and create a more profitable parts department.
Create an online sales channel
Do you have parts and accessories that fly off the shelves as consistently natural sellers?
Dealers can use digital retailing to showcase popular accessories to online customers by featuring them in the accessory catalog. Customers shopping online will see featured accessories for their chosen vehicle first, increasing the chances of purchase. You can run promotions while offering coupons and incentives to local customers. Customers are constantly buying parts and accessories. Are they buying from you or not?
Increasing Profits in the Service Department
Chances are that most of your service advisors and technicians don't consider themselves salespeople. However, based on the volume of customer interactions, all employees in fixed operations should be trained in sales.
Sales training in the service lane
Service advisors greet more customers and influence their brand loyalty, along with retention, at a higher rate than the sales team. The service lane would hugely benefit as a department from sales training.
It starts with being introduced to new customers. With digital retailing, fixed operations departments won't have to worry about the variable of the salesperson making an introduction. Dealers can leverage their digital retailer to connect their customers with service, introducing the department and connecting the buyer with a specific technician. Once the information is received in service, that service manager or tech can text to say hello and book an appointment.
Ensure that the service department is as skilled in customer service as they are in mechanics. Most dealerships aren't doing that, so yours is sure to stand out and make an impression.
Position yourself as the OEM expert
It's commonly thought that servicing your car at the dealership is expensive. Sometimes that's true—while other times, dealership service is comparable to the guy down the street. Regardless, perception is reality for your customer, so you have to take a different angle.
Market yourself until you're blue in the face as the OEM expert. Use digital retailing to promote excellent service reviews and coupons to online shoppers during the car buying process. Convince your customer that having their vehicle serviced by the OEM expert is the only way. Your technicians aren't general mechanics. They're brand-specific experts for the customer's car. And what does having a brand-specific expert working on your vehicle translate to?
Better performance, longevity, confidence, and trust. It's your job to drive that message home with online tools like web banners, pop-ups, and landing pages.
Smart software choices
Take a mental inventory of how many different kinds of software are used in fixed operations. It's time to go through each one to evaluate ROI. To calculate your ROI, use the same formula for every platform.
Return (or gain) - Cost of Investment (monthly or upfront fee) ÷ Cost of Investment = ROI
You can also calculate it based on the time the software saves you. There are simply too many options available to dealerships for you to waste money on software that doesn't deliver.
Insignia Group Can Help Create

Successful Parts Departments

and Increase ROI for

Fixed Operations
Every dealership should invest in a digital retailing software for a fixed operations department that sells accessories to be successful. Digital retailing is the future of the automotive industry and a massive piece of the pie currently.
Insignia Group integrates with major digital retailers to enable dealerships to sell accessories online with pricing syndication. No more missing the boat on accessory sales or eating labor times! Just custom dealership pricing and presenting personalization to every customer, every time.
Contact us to see how Insignia Group can help you increase back-end ROI with digital retailing.