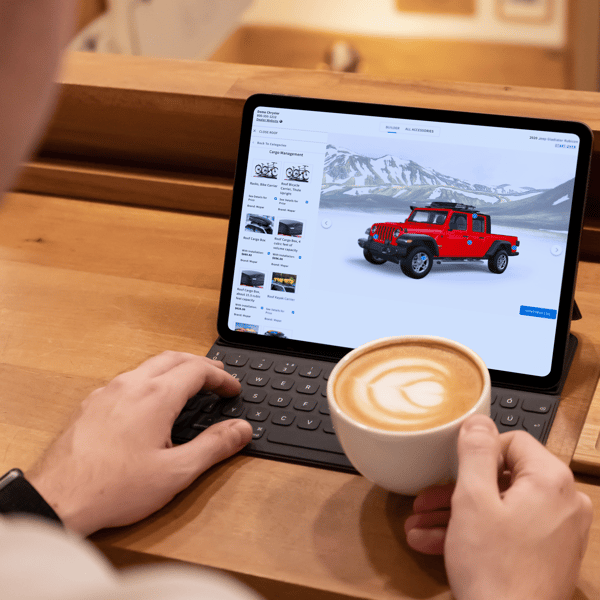 The future of automotive is only a click away.
Automotive News reports many big-name dealer groups fully adopted digital retailing last year, selling over 5,000 cars online in Q1 alone.
As more dealerships work with online customers, kinks in the process start to emerge.
It's common knowledge that Vehicle Personalization is a big business and an integral part of car buying. Dealerships can't afford to leave accessory profit potential on the table just because the customer is shopping online. The problem is that digital retailers don't allow dealers to set their own pricing and labor for accessories, and stores end up eating labor costs.
It's a huge frustration, and some GMs throw the baby out with the bathwater, abandoning accessories altogether.
Only that won't work, either. It's not sustainable long term. Ninety percent of customers will personalize their vehicles—if your store doesn't offer it, they'll buy it from the aftermarket retailer down the street.
And where does that leave dealerships? With thousands, if not millions of dollars, flying out an open window.
IG+ and Your Digital Retailer
For over two decades, Insignia Group has been the leading provider of digital accessory-selling systems in the showroom. Dealerships around the globe use our platform to present accessories at the point of sale.
As the industry adapted, so did we.
Today, IG+ has partnered with multiple digital retailers, allowing dealerships to sell accessories online with pricing syndication.
Dealers who utilize one of our digital retailing partners will notice their websites look a bit different in regards to how accessories are marketed to your online customers. After all, selling accessories is our bread and butter.
And we understand that the ability to customize your pricing and labor times is yours.
Through our partnerships, dealerships who are customers of the following digital retailers, and Insignia Group, can syndicate their pricing in over 15 different ways.
With IG+, dealers can customize their accessory catalog to mirror their showroom or service drive (instead of showing MSRP) sans installation.
Digital Retailing Partners:
DealerOn
Upstart
Roadster
ClickLane (Asbury Auto)
CarNow
Are we partnered with your digital retailer? If you don't see yours on the list, reach out to your representative and let them know you want to use pricing syndication with IG+.
How Auto Dealerships Can Boost Revenue
Position your store to boost revenue by proactively getting the Insignia Group system in place. You'll be acclimated and ready to start selling when your digital retailer rolls out the new accessory sales process.
Dealerships must be a customer of one of our digital retailing partners and IG+ to syndicate pricing.
While any dealership that uses one of our digital retailing partners can sell accessories online, dealerships with the Insignia Group system are at a massive advantage due to pricing syndication.
If you're unfamiliar with selling accessories and hesitant to go all in, we've got good news—ROI is a very low-risk factor. You'd have to abandon the system altogether to lose money effectively.
Dealerships using the Insignia Group system average an ROI of 150% in their first year while increasing to 200%+ in year two and beyond.
Not an Insignia Group Customer?
Wondering if your digital retailer is partnering with us or interested in becoming an Insignia Group customer? We're here to help. Reach out to us to discuss your digital retailer, launch dates, and how to get set up—so you're prepared.
We look forward to talking with you!