How is Elon Musk impacting your business and life? This innovative genius behind pioneer companies such as PayPal, SpaceX, Tesla Motors, and SolarCity, is making big strides in the automotive world. Musk, who is not only Tesla's CEO, but also their Chief Product Architect, took on consumer concerns of the vehicles range, head on. Tesla Motors rose to the challenge, and brought us over 100 Supercharger charging stations to North America alone. Tesla's Supercharger allows owners to travel for free between cities along well-traveled highways. That's right--for free!
These Superchargers provide half a charge in as little as 20 minutes, with a full charge in under an hour. The stations have been strategically placed to not only allow owners to drive from station to station with minimal stops, but stations are also located within walking distance of shops and restaurants.
The map below, found on Tesla's website, lists all Supercharger stations located in the United States.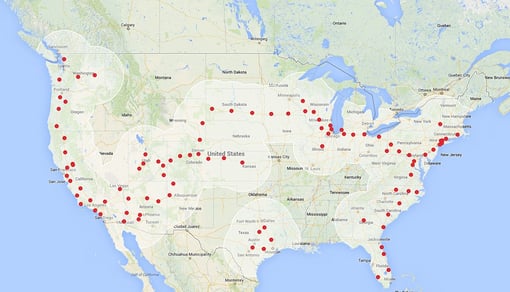 There are obvious parallels between Tesla Motors and SolarCity. When Tesla was faced with a lack of batteries needed to increase car production as well as introduce new models, Musk proposed the "gigafactory," a $5 billion lithium battery factory. It will be the world's largest source of lithium batteries.
In a similar move, SolarCity acquired Silevo; the company that developed a highly efficient solar cell, that can be manufactured at a lower price than those of the current technology. With solar energy at a tipping point, something needed to be done to accommodate the demand required for a big change.
When you look at the possibilities of things that could come from a man like Musk, they are literally limitless. Not only is he armed with vast knowledge in areas including, but not limited to, physics, engineering, and economics, he also has long-standing Silicon Valley roots.
He does not let current industry standards stand in his way, and is more than willing to create what is needed, if a suitable option does not exist. He is not afraid to think outside the box, or put his personal fortune on the line to reach the completion of a project. Musk has also placed a great deal of emphasis on cost effectiveness across the board. In an effort to do so, Musk has given away his technology for free to the rest of the industry. He stated he would rather control a smaller part of a bigger market than control a larger part of a small market.
In more recent developments, Musk announced the expectation to begin manufacturing batteries to power a home in as early as 6 months. His vision, drive, and innovations, spanning many industries represents a global impact to admire.
Authored by: Insignia Group
For more information on Insignia Group, visit our website to see how to build your own accessory profit center today.