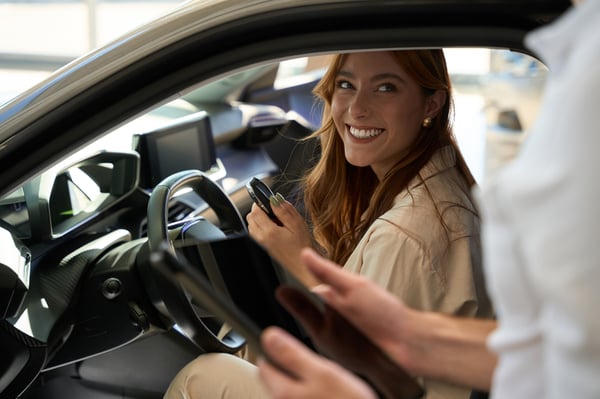 "Focusing on the customer makes a company more resilient" — Jeff Bezos
There was a time when dealerships filled the floor with warm bodies, and prior sales experience wasn't important. The belief that a salesperson was diabolically plotting to "get one over" on the customer was commonplace and accepted. Car buyers viewed car shopping as a necessary evil and begrudgingly handed over their money, whether they were treated well or not.
Those days are gone.
In 2023, the customer experience can skyrocket your success or set you way back; and, in some cases, do irreparable damage.
Millennials, the largest segment of car buyers today, require a positive experience, or you will pay—possibly with your life, in a long, slow death from bad reviews.
Then there's the up-and-coming generation right behind them, Gen-Z. They're far less materialistic and uninterested in car ownership as a whole. This segment of the population wants to come into the store more often (after all, they've probably never leased or purchased a car before) and value experiences over anything else.
Dealerships require great skill to pivot to meet each customer's needs and deliver the experience customers are looking for.
Automotive News published that the customer experience and demands have changed over time. Dave Mingle, from Reputation, says, "Our data shows that customers value transparency and simplicity more than anything else—even price."
And he's not alone in his findings. AutoTrader reports that over half of customers would buy from "...a dealership that offers their preferred experience, even if it didn't have the lowest price."
How can dealers deliver stellar experiences to buyers that have a scrutinizing gaze? Here're three tips:
Seamless transitions
Over 90% of your customers prefer a dealership that allows them to start the car buying process online, shaving hours off their in-store purchase time. The transition from online to in-store has to be foolproof. One of the biggest blunders with digital retailing is a dealership's inability to post their store-specific pricing and labor times for accessories. Accessories are everything for expressive Millenials and experience-driven Gen-Z'ers. Any attempt to charge over MSRP or slap on labor costs that weren't posted online is a recipe for disaster. Customers want transparency.
One Stop Shop
Create the right environment by asking good questions about the person's needs and lifestyle so you can make recommendations for their vehicle. Generally speaking, Gen-Z will be interested in accessories that add to their driving experience, not flashy upgrades or aesthetics. (You can discern exceptions to this rule with good listening skills.) Offering accessories at the point of sale will allow your customer to roll the price into financing and get add-ons under warranty. And having them installed at your store brings simplicity.
Quiet confidence
Today's car buying market requires a different kind of salesperson. People are so well-researched, so it's never been more important to be an expert on your product. Salespeople who are confident in what they're selling while maintaining a laid-back, low-pressure environment will deliver the best experience. Quiet confidence kills the "sleazy car sales" stereotype, delivering the simplicity and transparency that buyers are willing to pay more for.
Insignia Group Can Help
For more than two decades, Insignia Group has helped dealerships nationwide sell more accessories at the point of sale. Today, we're partnered with major digital retailers to give dealers the ability to manage their accessory pricing and labor time online. Your store isn't a copy-and-paste of the guy next door, so why should your online accessory pricing be? Through our integration with digital retailers, dealerships can say goodbye to eating labor costs and make real-time updates to pricing and availability—helping them get in front of more prospective buyers.
Ready to create seamless online to in-store experiences? Contact us today to find out how we can help.