These days, the overwhelming majority of automotive brands have gone global. Looking at just the top five brands of the first half of this year, you'll find these industry leaders featuring sites from Belarus to Chile. This raises a common challenge. How can automotive brands cater to customers in different geographical locations with varying cultures, needs, and interests? Vehicle Personalization is a multi-billion dollar industry in America alone, so imagine the profitability worldwide. Profitability aside, custom cars transcend culture and location. Every automaker desires to create brand loyalty in every market. Vehicle Personalization makes that goal attainable.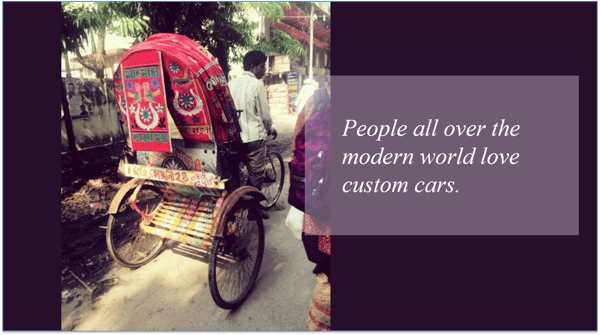 People all over the modern world love custom cars. There isn't a place on the globe where people are driving cars and not modifying them as an expression of themselves or to better suit their needs. Extremely high dollar custom cars of the rich and famous often come to mind, but Vehicle Personalization isn't reserved for the elite. Just take this common form of transportation, the rickshaw, hailing from a country among the poorest in the world, Bangladesh.

Creating brand loyalty, where consumers tend to buy the same brand of goods rather than competing brands, starts with research and a plan. If manufacturers focus on launching personalization in one market at a time, the implication could be staggering.
Research | Know your consumer better than your consumer knows himself. If a person were to personalize his vehicle in the showroom at the point of sale in Algeria, what types of OEM and aftermarket parts would interest him? Some personalization options won't work in every market. It's of utmost importance to know cultural hot buttons, and to build strong relationships with local distributors, where possible.
Plan | While the same Vehicle Personalization options may not interest customers worldwide, a streamlined presentation can. Store managers should analyze their goals for front end gross, create a plan for presenting personalization to every customer, and ensure their teams are thoroughly trained to put this step into their processes. At the manufacturer level, create guidelines for selling accessories to every customer and allow room for modification based on cultural differences in the markets.
Where Vehicle Personalization is concerned, allow return on investment speak for itself. Target a market in which to launch a new process, and commit to adequate training and investment of time.
Consider the following research from Auto Dealer Monthly.
According to SEMA, the aftermarket accessory market is a $34,000,000,000 industry that has been growing at a rate of 8 percent annually since the year 2000. The OEM accessory market, according to Marketing Worldwide Corporation, is an estimated $182,000,000,000 market and is expected to be a $200,000,000,000 market by the end of 2016.
These numbers reflect a vastly untapped market. What's the global potential for your industry?