[Updated 11/12/2020]
The stampede is coming, and they're ready to break the internet. The Black Friday crowd has gone virtual. If 2020 has already set records in e-commerce, imagine the impact of the biggest shopping day of the year. With all the online activity, the day after Thanksgiving is basically just the warm up for Cyber Monday.
Yes, the opportunists are charging their laptops on Black Friday eve, ready to kick this thing off with new car smells. Make this car-shopping season spark joy with mega-profit potential, stellar CSI scores, and repeat business. I hope you upgraded your internet package.

In all the activity, don't let Vehicle Personalization get lost. You cut your legs out from under yourself when you bypass accessories. This high volume day is the ideal environment for accessory sales, and can even be used to temper the flow online and in store.

Here's three things Vehicle Personalization can do in the hustle and bustle.
1. Deck the virtual halls to promote personalization
Everyone knows that Black Friday is just another name for the inception of the Christmas countdown. Think of those vehicles on your website like Christmas trees...would you leave them bare? Update your web page to promote tasteful touches, sleek upgrades, and full blown crazy to dazzle your deal-seekers. Give them one-of-a-kind vehicles that won't leave them perusing Amazon for Vehicle Personalization. Plug appearance, lifestyle and convenience upgrades that pique your customers' curiosity; then use their favorites to deliver a purchase they won't forget.
2. Make in person shopping for accessories a time filler for F&I
This is where you build weary shoppers up with rest, sustenance and personalization. It's been a long car-buying process and a large, mentally taxing decision. Now take the pressure off with socially distanced spots to relax, prepackaged snacks, and a shopping experience for all the goodies they want to add. Flip the waiting time from the worst part of the day, to the best—and watch the check-ins, tweets, and 5-star reviews roll in. Nudge your customers by placing a sign at your sanitizing station—"Take a selfie in our store and tag us with #blackfriYAY. We'll choose one lucky shopper to receive free oil changes for a year!"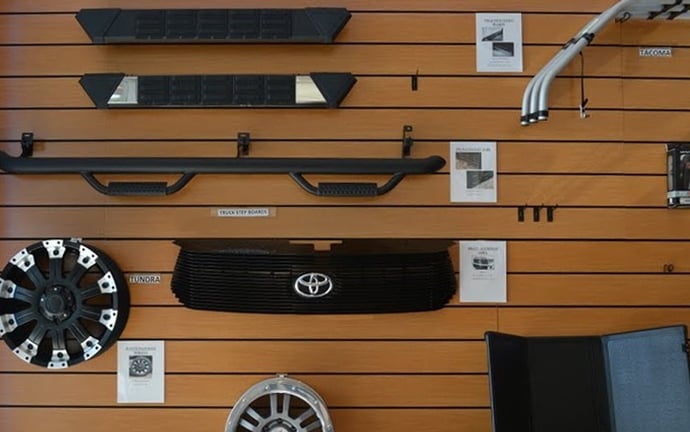 3. Roll accessories into financing to stretch the budget
'Tis the season to stretch the dollar as we've all been affected by COVID-19. Accessory sales, believe it or not, are up in 2020, which is proof enough that your customer is spending money on personalization. The only question is, are they buying it from you? Keep it in house this holiday season by promoting the money saving benefit of rolling accessory purchases into F&I.
What's your dealership's plan for this unique Black Friday? Share your ideas in the comments.