Accessory catalogs are a dime a dozen. Complex accessory selling systems with reporting to prove R&I, incentive employees, and strategically boost sales are not.
The Insignia Group Accessory Selling System allows dealerships to track their most popular parts by sales. The top-selling accessories may change with the season, demand, or other factors, and management needs to know what is trending.
To find this report, simply login to your system and look for the drop-down menu labeled "Reporting." Next, choose Popular Parts By Sales from the list and set the time frame you want to view. Options include the last week, the last month, the last year, and more. Then, choose "Go!" to pull the top ten most popular parts sold in your dealership for the selected timeframe and the most popular parts sold nationwide for your brand.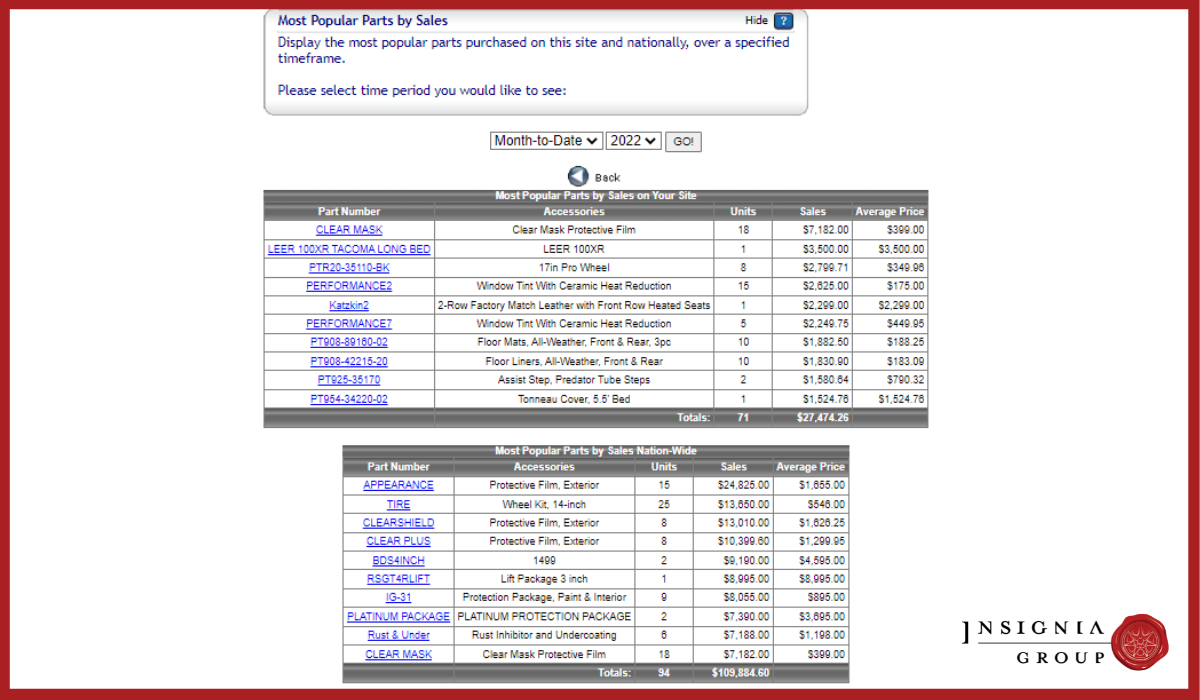 How This Report Helps You
The main benefit is access to accurate data that shows which accessories are sold on which vehicles the most often. Then, using that information, you can create a strategy to boost sales.
Bundle and Move
The top ten best-selling accessories will also reveal what isn't selling. Dealerships can create custom accessory bundles to sell more overstocked accessories using that information. Bundle your top-selling accessories with a lower-selling one at a compelling price to move inventory. Get creative with those custom packages. Maybe you take a different approach and bundle the top sellers to sell them at an even higher rate. Bundling will also help you move metal on the lot by accessorizing used vehicles with popular items. Get them out the door and at a higher price point!
Accessory Ice Breaker
When you know what's popular by vehicle, you don't have to guess what might pique your customer's interest. You'll be armed with information that can break the ice on the accessory conversation and help your customer get ideas on personalizing. When doing a vehicle walk-around or test drive, mention the top-selling additions that other drivers are buying. You can let the customer know if they want a feature that most others have, and they can easily roll it into financing. Knowing what is selling in your area and nationwide by brand will help you make informed recommendations. Ultimately, customers get something they love, and you make more money. That happy customer leaves positive reviews, refers their friends, and boosts your CSI scores—all while increasing PNVR.
Compete With Neighbors
On average, a customer is willing to drive 100 miles to buy a new car. That makes every store within 100 miles your competition. Use the most popular parts by sales report to get an advantage. For example, you have precise data that customers love certain accessories. On occasion, use the hottest selling accessories as promotional items to win customers to your store. Whether it's free, half off, bundled at a discount, or as a prize, saturate your reach with marketing on this topic. Use social media, ads, email campaigns, geo-targeting, and more to show videos of the accessory, explaining the benefits and popularity.
Need an Auto Accessory Sales Software for Your Store?
If you're not a current Insignia Group customer, you can schedule a demo today to see our comprehensive list of reports and features for your dealership. Not only will you have a sleek user-friendly interface to sell accessories at the point of sale, you will also get invaluable data on who is selling what (and when). Our reporting features keep cross-departmental communication organized, as well as keep your customers informed. In turn, you will have happier customers who are sure to get what they want out of a vehicle and from your store. You'll move more inventory and reduce turnover by allowing salespeople to make a commission on accessory sales—with the ability to track both.
Let us show you how you can get 200% ROI in your first year alone by contacting us today!