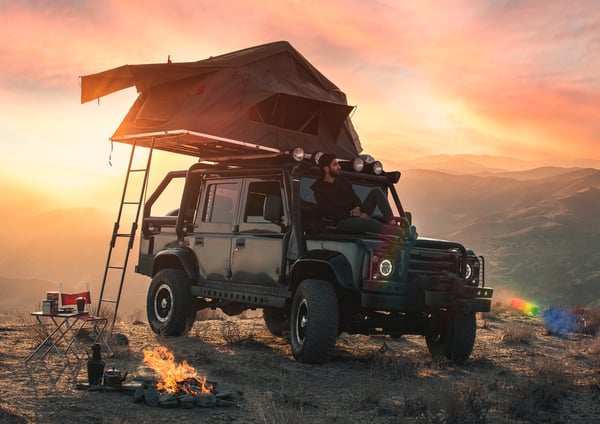 Ahh, Spring. The season of new life, raging pollen, and warmer weather accessories. As the country begins to thaw, dealerships across America look for a seasonal accessory shake-up. Bid farewell to ski racks and snow tires adorning your showroom vehicles. Retire your pitch for heated leather seats. Put your hero vehicle's winter gear in storage. It's time for a new outfit and a new lead-in product.
Revamping your dealership's showroom and curbside hero vehicle is priority number one. Plant the seeds of spring breaks and summer road trips with seasonal accessories.
How To Find The Right Accessories
Your customer is your best search engine. The art of reading a customer and asking good qualifying questions will take you further than any spreadsheet of statistics. However, statistics are a great starting place to springboard your accessory conversation with a real person. Take a look at what accessories were popular for your brand over the last few springs and summers. Then, throw the fairy dust of creativity and 2021 vibes all over it. Ask great questions about your customer's lifestyle to figure out which warmer weather accessories will spark their interest. Are you talking to a salt life beach bum, a cross country cyclist, or someone who honestly just wants to get through the summer heat as comfortably as possible? Knowing a person's needs translates into soft selling and easy profit when done correctly. Start at the trade and show genuine interest in the person and their unique needs. After that, all that's left is to dazzle your customer with attractive options to get the car they want with the budget they need.
Most Common Spring and Summer Accessories
If you're unsure which direction to go with a lead-in product, try one of these popular warmer weather accessories, which are heavy sellers across brands.
All-weather floor mats | Whether it's grass from the baseball diamond or sand off the beach, the coming months are full of outdoor adventure. All-weather mats protect the interior of your customer's new car from the inevitable wear and tear of so many feet coming and going.
Remote start | Rising temperatures turn an ideal vehicle into a hotbox. Remote starts provide more than convenience and comfort—those things are essential. Cooling your car a few minutes before your drive can also safeguard against scorching car seat belt buckles and scalding leather seats.
All-weather cargo tray | Like a floor mat for your trunk, cargo trays make for easier clean-ups. Is your customer toting a cooler to sports or church events? Are they piling sandy towels in the back or taking a road trip? Cargo trays allow your customer to protect the interior and still have fun.
Roof racks | All across the country, adventure seekers are knocking the dust off their kayaks and canoes. Many customers are looking to pick up a new hobby after a year of isolation, and kayaking sounds pretty good right now. Roof racks to transport the fun are a given for the coming season.
Bike racks and hitch mounts | Nothing says summer like bike rides. Last year produced a "cycling boom" as people scrambled for socially distanced hobbies. Now is your time to capitalize on the rising trend with options to take your bike on the open road.
Sunshades | If a remote start isn't in your customer's budget, a sunshade can be a great alternative! There's no reason to sell any vehicles this summer without a sunshade. Sunshades, which cool the vehicle's interior and protect against fading, are an easy sale and a great lead-in.
Here's to blooming flowers, buzzing bees, and warmer weather accessories. So, what does your seasonal accessory lineup look like?
Insignia Group has been helping dealerships for more than 20 years to amplify their accessory sales. Our software is easy to integrate into your existing website or sales system to show interactive 3D models of the vehicles you sell and all the accessories that can be bought with it. The average dealership sees a revenue of at least $268,700, and around 10% of our customers are in the Million Dollar Club (anywhere from $1 million to $12 million in revenue). Who wouldn't want to make more money without having to sell more cars? If you want to bring your dealership into the 21st century, view our demo and start raking in revenue today.