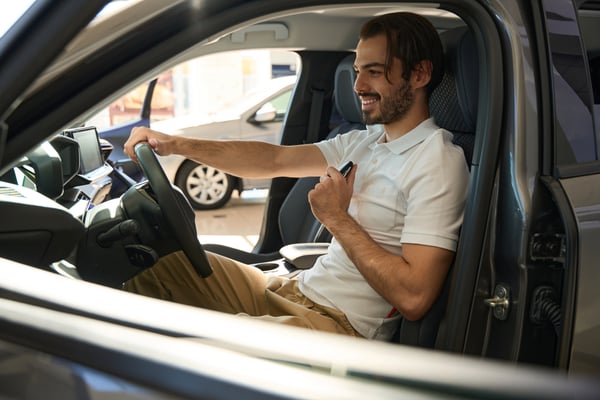 "Consumers don't just want personalization, they demand it." -McKinsey & Company
Vehicle Personalization isn't a difficult concept that will lay waste to the car sale.
It's statistics. The consumer's need to personalize has been analyzed in depth. When dealerships understand the driving force behind the custom car accessories market, selling accessories will finally feel like the light work that it's always been.
A recent McKinsey report states that not only do consumers expect personalization, almost 80% get frustrated when they don't get it.
This is hugely valuable information for the automotive industry! Consumers are already a little frustrated with car buying, and dealers have little control over the source (think pandemics, chip shortages, and inflation.) And the relationship with a new customer is a precarious one. People walk in on the defense, and one wrong comment can result in throwing the baby out with the bath water.
By all means, give the people what they want, and the people want Vehicle Personalization.
Self-Expression
People want their possessions to express their unique personality. Some ways we humans do that are through our home decor, our appearance, and our cars. Auto accessories allow a consumer to take a mass-produced vehicle in an ordinary color and make it come alive with individuality.
Consumers will buy custom car accessories. The only question is where they'll buy them from. Give every opportunity for your customer to personalize by pointing out auto accessories on the test drive, sharing options for upgrades, and presenting the full catalog at the point of sale.
While dealers make their money selling popular OE accessories or aftermarket leather, they can gain popularity and loyalty by adding a little fun. A true gearhead may view fuzzy pink steering wheel covers and Star Wars sun shades as ridiculous. Then again, Jeep enthusiasts across America are driving around with smiley faces covering their spare tires and leaving rubber ducks for fellow Wrangler drivers. Just remember what percentage of your consumers are actually car junkies and that you can cater to both.
The main takeaway is that self-expression is a powerful motivator in our society that bonds consumers and producers. The potential here for referrals, positive online reviews, and customer loyalty can't be overstated, and it's all tied up in Vehicle Personalization.
Pro tip: Insignia Group customers can build dealer-specific custom packages for their accessory catalog. Experiment with bundling accessories to attract buyers, like adding a phone mount with your technology package or offering embellished license plate frames along with body-side molding.
Individual Needs
Another source for the drive to personalize is to meet a need. Think of it in terms of shoes. No "one size fits all" shoe exists because we all have different feet. Not only do people differ on the size they need, they also differ on the style, functionality, and level of support needed.
The same is true for car buying. A single woman living in the city has different needs from her car than a family of five living in the suburbs. A person's needs may be driven by their lifestyle, body, or other factors.
Auto accessories can make a big impact here. Upgrading to leather can help a mom who has frequent apple juice spills in the backseat. Adding assist steps can help a shorter person get into a lifted truck. A bike rack may be an absolute must for an active or adventurous buyer. A consumer in Maine may perceive a remote start as a need for extreme temperatures, and a consumer in Florida may share the same sentiment for a different reason!
What someone perceives as a need for their car will vary by customer, and custom car accessories are for everyone.
Sense of Control
A sense of control is particularly important in car buying and may be a social psychology that's showing up more than you realize.
The dynamic of low inventory and higher used-car prices left buyers feeling dragged along. When it comes to car buying, people expect a negotiation and want to feel like they've gotten a good deal so they have some sense of control. Vehicle Personalization is not that different. Personalizing at the point of sale hands the control both physically and psychologically over to the customer.
Pro Tip: As part of our best practices for success, Insignia Group recommends introducing Vehicle Personalization to the customer during wait time for F&I. Our process teaches salespeople to show the customer their options, then excuse themselves to get the customer a drink, leaving the buyer to shop in peace and comfort.
A variety of options to meet any individual need or desire are suddenly available at the customer's fingertips. Whether it's adding a roof rack to finally pick kayaking back up or committing to being more organized with cargo organization, the customer is in control.
Insignia Group Can Help
Insignia Group is the leading provider of digital accessory selling systems nationwide. Our system and proven process have helped hundreds of dealerships sell more accessories at the point of sale. Whether you're bundling custom packages or focusing on the OE catalog, the Insignia Group system will streamline your sales.
Insignia Group has teamed up with some of the biggest digital retailers so customers can be presented with accessories regardless of whether they are in the store or buying online. Ask us if your digital retailer is up and ready to go!
Ready to get started? Contact us today.