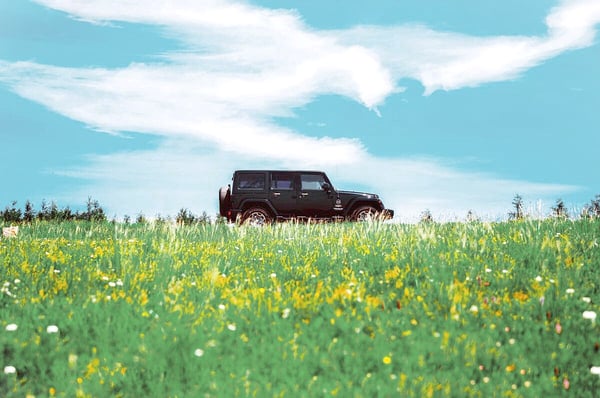 While we're spring cleaning, let's sweep away some misconceptions about accessories. Are accessories an afterthought? A niche market? A good way to throw away your sale? *Sprays Lysol* No. No. Also, no.
Accessories are a $46 billion industry. 90% of car buyers purchase accessories within the first three months. Dealerships using Insignia Group's digital platform average $645 in accessory sales per customer. In 2020, the most infamous year of our time, digital retailing saw a 22% increase in accessory purchases. As a result, consumers are now expecting to do most of their shopping completely online.
Get those hands sanitized and let's get to work.
Popular Spring & Summer Accessories
Each season has its own popular attractions, even during a full-blown pandemic. Though you'll have to factor in your environment (April brings snow to New Hampshire and beach days to Florida); there are some spring and summer accessories you can always endorse.
Remote start
Remote starts are timeless, you need only change your pitch. As the temperatures rise (or promise to rise soon), everyone can get on board with the ideal car climate before driving. Remind your customer that leather heats up quite nicely in the summer sun and cooling down those seats a few minutes before your commute is just basic 2021 self-care.
All-weather mats
Warmer days mean plenty of grassy cleats, sandy feet, and muddy boots in and out of your car. Protecting your car from life's elements will make it easier to clean and maintain your ride. (And possibly keep spring pollen from ruining your life for the next few months. Probably not, but possibly.)
Cargo mat
Encourage your customer to keep their new car in great shape with this protection accessory. Cargo mats protect against spilled coolers and crockpots, the red dirt off your bike tires, sandy towels, and more. You can wash your cargo mat easily—your car, not so much.
Seat covers
Nobody wants to leave Fluffy behind on their next road trip. Seat covers are a great way to take along your pets without caving to the reality that pet hair is for life.
Bike rack
With the onset of the pandemic, biking grew in popularity as a safe, socially distanced activity. Capitalize on your customer's new hobby by adding a bike rack to their new vehicle.
Trailer hitch kit
The need to tow your trailer comes in many forms but a few reasons this spring include: your customer's seasonal landscaping business, game day, road trips, camping and more.
Using the Seasons to Your Advantage
Many prospective buyers may wait until spring to start shopping after receiving their tax refunds. After the way last summer went, there are likely many customers looking forward to a slightly more normal season approaching. Make sure you ask all the right questions to get to know your customer's lifestyle, so you can recommend great accessories. Many will want to purchase accessories for summer road trips, vacations, and hobbies as the world slowly reopens. Start at the trade with qualifying questions, build great rapport, and present accessories during wait time for F&I. With your recommendations, the customer can create the vehicle they want, using the budget limits they have.
Let Insignia Group Take the Work Out of Sales
Insignia Group is the leading provider of digital accessory selling systems. With our platform, you can sell accessories at the point-of-sale, seamlessly. With cross-departmental communication, stunning 3D visuals, and full transparency for pricing and financing, selling accessories doesn't get much easier. Update your display page with relevant accessories and custom packages with the changing of the seasons, and don't forget to utilize our Best Practice tips. Spring is the time to revamp your accessory strategy and we're here for you.