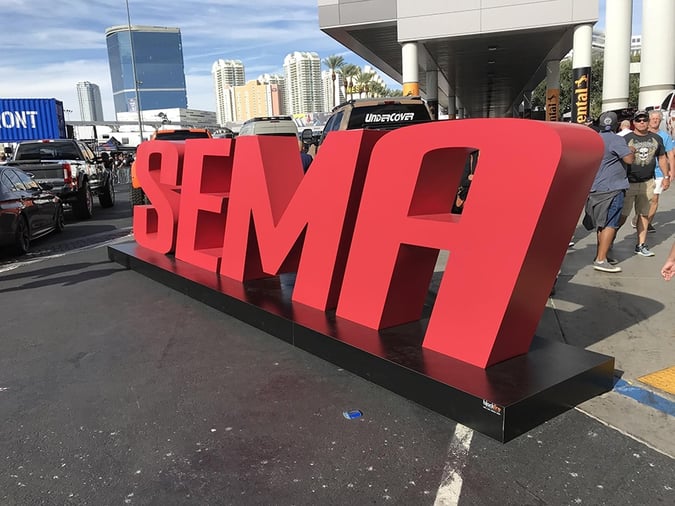 The force of gravity was my prediction for the industry from #SEMA16-Reflections. Indeed, SEMA 2017 was a display of gravity as the footprint of the show was bigger -- much bigger than last year -- bigger than #ever.
The 2017 show stretched from the Westgate Resort (meaning actual booths in the Westgate convention halls) all the way to a new, temporary, Performance Hall located between the south hall and the Renaissance Hotel. Not to mention the expansion across Paradise Road in front of the north hall AND behind on Joe W Brown Drive. Pretty soon we will have vehicles and booths on the Wynn golf course! Is it possible for this show to be ANY bigger? (See my prediction at the end for 2018).
"Lift me up"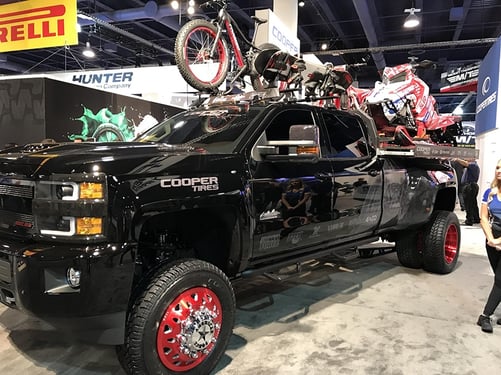 Like circa 2007, something happened this year with lifting trucks and Jeeps. You had to search high and low to find one or two lone trucks or Jeeps that didn't get the "Get Lifted" memo.
All over the show, the lifts were in many varieties ranging from small, medium, and large, to "Holy Shhh -- Look at that!" BIG lifts are in...not sure why I need to lift my truck 3 feet only to add a carrier for my snowmobile (and who the heck has the nerve to park it that high up -- gulp?).
This absolutely has to put OEMs on their heels as the aftermarket is clearly saying, go UP or get left out.
"What did you say?!"
As if you are not completely overwhelmed with visual sensory-overload of vehicles and products, the folks at SEMA decided to add SOUND everywhere...rock bands, video loops, and vehicle burnouts seemed to be amplified, especially outside.
Whereas Dub usually commands the sound waves around the south hall, you had to actually go over to their booth to hear their music. Between the Renaissance and the north hall, you can't "walk and talk" anymore without shouting. The show didn't stop there: they added a lounge area outside of the central hall with more live music performances. Whether this will be seen as a great show enhancement will be determined by the surveys, and it certainly didn't do anything positive for my "SEMA FOMO" at the show…
"Tremor in the Force"
In what could be the most significant event in the Automotive accessories industry since air conditioning became a standard option, AutoNation had on display it's AutoGear concept vehicle near the entrance of central hall. No, it was not subtle, and neither is the AutoGear direction. If (and many, including yours truly, are tasked with turning that "if" to "when") successful, AutoGear could turn the industry on its head. The largest US auto group just decided to go "all-in" Vegas-style with Vehicle Personalization. Let it sink in.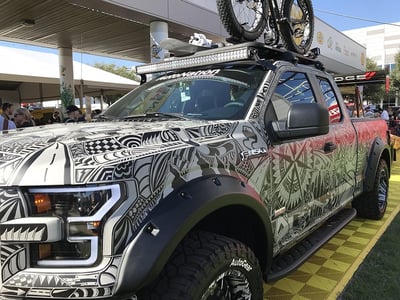 "Gravity vs. Expansion"
Last year, consolidation was a theme emerging among manufacturers. In 2017, that theme continued with numerous brands continuing to clump together through investment portfolios. That theme will continue through 2018 and I predict we will start to see this gravity beyond manufacturers and into the supply chain, and even retail installation businesses.
This begs the question: did we witness the last "biggest-SEMA-show-ever" this year, and will we see gravity start contracting the marketplace? Can the show possibly get any bigger? A colleague of mine asked during the show, "Do you think there are as many vendor employees as show attendees?"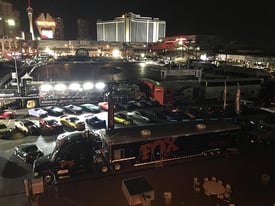 The automotive aftermarket accessories industry has always had a heart of innovation. Historically, that innovation was literally out of the garage. What's different moving forward is there will be fewer and fewer small guys and garage innovation. It will be brands, IP, and return on investment: big company -- big money thinking. As vehicles continue to become more like rolling computers, maybe even driving themselves (who wants that in the automotive aftermarket??), who's going to be tinkering with new products in the garage? Certainly feels like we are approaching a turning point in our industry.
What do you think? Leave me a comment or two.