In some respects it's a shame that the SEMA (Specialty Equipment Marketing Association) annual Show is a "trade only" event each year. There are literally thousands of car geeks and gear heads that would die to attend the largest car/accessory/performance parts/hotrod/truck/off-road /auto racing/motorcycle/ education /media /party event/how the heck did you every build that/happening in the world. It is truly an Automobilia-Techno-Maxima event that every auto lover should be able to experience.
But the show rules only provide access for "industry trade" personnel consisting of marketing, manufacturing, and wholesale distribution companies and their representatives that belong to SEMA or have an official affiliation. That being said, SEMA made a concerted effort, beginning last year, to extend a sneak-peek to the public through organized tours and the Friday evening "SEMA Ignited" cruise, an event which begins at the official close of the week.
Newbies unfamiliar with this event will learn that SEMA is the automotive trade show set up in three separate convention halls (one with two levels), three outside parking lots turned into proving grounds, a new 100' x 600' Performance Pavilion tent, plus the majority of spare space found in the Westgate Hotel and everywhere in between. The event covers more than 2 million square feet of exhibitor space! Usually held the first week of November in Las Vegas, SEMA also represents automobiles as art.
It's truly one of the greatest automobile spectacles that I have had the pleasure of experiencing. Whether working a booth, displaying a vehicle, or cruising the show to see what's new, there just isn't anything that compares to SEMA's annual event. Attendance is estimated to have hit an all-time record this year. In 2014, the gathering increased by 5% over the previous year and reached 145,500 attendees and is second in size only to the annual International Consumer Electronic Show! The attendees consist of approximately 65,000 buyers of which a quarter (25%) are from outside the USA, all looking for products that they can retail or wholesale through distribution. In addition, over 3,000 media representatives assemble material for newspapers, magazines, blogs, radio, television and pod cast programs.
Numerous events are held within the SEMA show week that include the "Battle of the Builders" which is quickly becoming one of the most prestigious competitions between custom and hot rod builders from around the world. With over 125 vehicle entered, the competition is narrowed down to ten finalists by an expert judge panel. The ten finalists decide amongst themselves who will be crowned "Top Builder" at Friday evening's SEMA Ignited event. This year Bobby Alloway (Alloway's Hot Rod Shop in Louisville, TN) won the prestigious award for his bold new creation of an old school 1933 Ford full-fendered roadster that he built for Larry Olson of Sioux Falls, South Dakota. See the car and more info here:
http://www.hotrod.com/events/1511-bobby-alloway-wins-2015-sema-battle-of-the-builders/
This car also won the prestigious "America's Most Beautiful Roadster" (AMBR) award earlier this year in Pomona. Info on the AMBR event at:
http://www.hotrod.com/news/americas-most-beautiful-roadster-2015-ambr/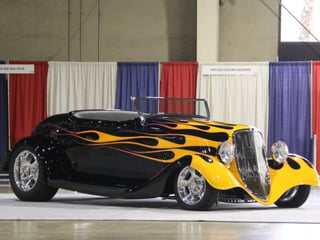 Congratulations to Larry and Bobby on a stunning project build. It's a personal favorite.
While a world of manufacturers design, develops, and markets parts and accessories for a broad base of different vehicles, the OEM's (Ford, GM, Fiat Chrysler, Lexus, KIA, Honda, Acura, Mazda, Audi, Toyota, BMW, Mini, and Nissan - all represented) establish exhibits to provide exclusive interfacing for SEMA attendees. Insignia Group helps the OEM's with a process and an electronic catalog to sell those OEM and aftermarket accessories to customers through the retail automotive dealer.
Similar to the national new cars shows, the OE manufacturers bring the latest in their line of performance products seeking top media attention to assist them in product promotion. Both the Ford and GM displays were the most prominent in the same Central Hall location each year. Their newest exhibits each include an exclusive asphalt proving grounds where each manufacturer demonstrates the performance of various vehicles with professional drivers by giving rides in cars on these closed courses. The engine RPM screaming, tire smoking, exhaust barking sessions are one of the largest draws throughout the entire week.
Virtually every race sanctioning body in North America is represented at SEMA. NHRA, NASCAR, IMSA, SCORE Off Road, INDY CAR, and SCCA are the major-league organizations and their top-performing championship vehicles and drivers are on display for photos and autographs. Numerous SEMA displays include an exhibitor's respectively sponsored vehicle(s). Many are practical street cars and trucks that range in vintage from the 1930's all the way to current production models. The majority are cool creations that function as eye candy for the media and can be appreciated for their attention to detail. There are also projects whose beauty lies in the eyes of their creator. Less you believe that all vehicles are created equal at SEMA, take a look at these links:
Insignia on Pinterest
Ten coolest cars at SEMA according to Automobile Magazine:
http://www.automobilemag.com/features/lists/the-10-coolest-cars-we-saw-at-2015-sema-show/
Top ten worst ugly and tacky cars from SEMA 2015:
http://www.autoguide.com/auto-news/2015/11/top-10-worst-ugly-and-tacky-cars-from-sema-2015.html
2015 SEMA Hottest Cars:
https://www.semashow.com/thesemaaward?__utma=258361992.1526542082.1439562313.1447091462.1447092124.3&__utmb=258361992.1.10.1447092124&__utmc=258361992&__utmx=&__utmz=258361992.1447092124.3.3.utmcsr=google|utmccn=(organic)|utmcmd=organic|utmctr=(not%20provided)&__utmv=-&__utmk=225602777
In all, SEMA is the most non-discriminating, brand exuberating, meat and potatoes automotive event in North America. See you at the SEMA show next year: November 1-4, 2016.
By: Bob Smith, Vehicle Personalization Expert at Insignia Group