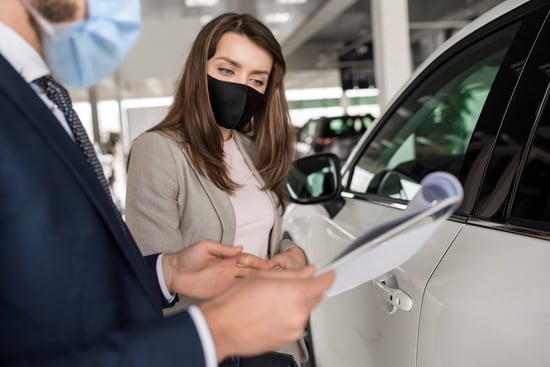 There are many potential objections for a salesperson to overcome. Arguably, none are more dreaded than the deadpan reply, "I'm not interested." Customers know this is an excellent way to cut the sales pitch off before it starts. Rather than playing into that hand, overcome the objection by reopening the conversation.
Hit Rewind On That Game Tape
The ability to navigate objections well starts with a good sales process. The accessory conversation should begin at the trade. What accessories did the customer drive-in with? As you start talking with the customer, you'll get to know their lifestyle by asking qualifying questions. What does the customer do for work? How much time do they spend in their vehicle? How many people or animals are regular passengers? The sales process, which can be lengthy, should also aim to make the customer as comfortable as possible. When minutes turn into hours on the car lot keep the pressure low, the patience level high, and the drinks flowing freely (coffee, that is). Don't underestimate the power of hanger. It is a real thing and you feel it in your soul!
Anytime the customer is feeling overwhelmed, they'll balk at another sales pitch (no matter how good it is). Prevent this by making sure to execute the sales pitch with excellence from start to finish. A smooth process allows you to overcome objections with informed refutation. The next time your customer says they're not interested, you can tactfully respond, "not interested in what?" Once they tell you what they aren't interested in (another sales pitch, spending more money, buying any accessories, etc.), you're in a position to overcome the objection.
Hit 'Em With An Accessory Trick Play
When you reach a stall, try asking the car buyer if they're planning to drive this car for more than a few months. Here's a word track example to get you back in the game.
"I understand that you're not interested in personalizing your vehicle. Many options allow you to invest in your future by protecting the longevity of your car. If you're going to keep the car for any length of time, take a look at the options available to you to ensure this vehicle gets a full lifespan. I'll go grab you something to drink while you browse. Remember that all of these accessories are easily rolled into monthly financing when you find something that will help protect your vehicle."
When overcoming any objection, it's crucial to first empathize with what the customer is saying, then educate the customer where needed. It's likely that the customer may be under a misconception about accessory options or think they're about to endure a sales pitch. Make sure your customer isn't associating vehicle personalization with fuzzy dice or racing stripes. Tailor your qualifying questions and word-track examples around your unique customer.
Let Insignia Group Coach You To Fewer Sales Objections
Providing digital accessory platforms to sell accessories are only part of what we do. Insignia Group also delivers consulting services to make personalization profitable in your showroom. Take advantage of the entire gamut of our services, including interactive 3D visuals, best practice tips, electronic we-owes, OE and Aftermarket digital product catalog, nationwide consultants, and much more.
Objections are a natural part of the sales process. Start at the trade with your accessory conversation, and you'll find yourself overcoming pushback with ease. Ready to bring your dealership an average of $250,000 in accessory revenue this year?