I don't know about you, but I really like the NADA show timing so close to the beginning of the year. It feels like the right way to start the year running or hustling, with a feeling of urgency.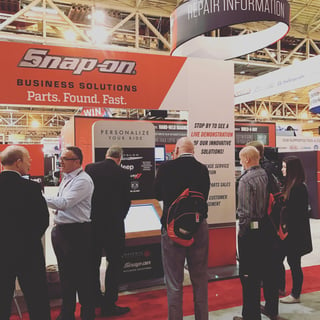 My perception in conversations with dealers and store managers on the show floor was a feeling that the clock is ticking and things needed to get done--a lot of things.
There's little question about the current health of the industry. Dealers to porters are making money and are busy. It is also clear in conversations that most dealerships are understaffed, particularly in service. Finding new ways to maximize every available opportunity in the store was the key theme in most of my conversations, and customers digital experience is on everyone's mind.
Not just because it's our business, the idea of Vehicle Personalization was also in every discussion, even those in groups where I wasn't particularly known for what we do. This provided for a fun way to be a fly on the wall about our business channel. (And yes, it was hard to keep my mouth shut and just listen.)
What I heard, moreover, was: There's got to be a silver bullet to this accessories business in dealerships.
Oh, REEEALLY??? By all means, please enlighten me.
As I listened to these conversations, I began to feel better and better: we haven't spent the last fifteen years missing some magic formula that doesn't exist. A pure digital experience at any level of the dealership (online or in store) hasn't reached the ability to replace the human experience. Of course, the trend is to talk about more technology, seamless integration and cool future gadgets, but that isn't the current reality of our industry.
Let's get this straight. Vehicle Personalization isn't rocket science, and yet, it is complicated. Aside maybe from the DMS, no other dealership business function spans the entire dealership. Vehicle Personalization success is determined by how all departments work with one another, which is what makes this endeavor so complicated. The spanning of different departments means many moving parts and technology is not the glue to bind your store to success...people are. People span the dealership. People span departments, and these persons must agree on a single process to ensure success. Technology is just a tool for people to use, whether those people are customers or employees.
The rush right now, whether in buying the car, servicing the car or personalizing the car at any stage is to replace the human experience with the digital one--wholesale. Certainly (I am in the technology space, after all) technology and digital can improve and streamline the process; that is what we have done with Vehicle Personalization. It can not completely encompass the entire experience. After all, humans buy from other humans.
As we charge into 2017, use technology to improve your systems and your processes. Use it to make up for that shortfall in staffing or maximizing every opportunity. Don't forget your people. Don't miss out on making the customer's experience in your store exceptional, human, and worth coming back for.