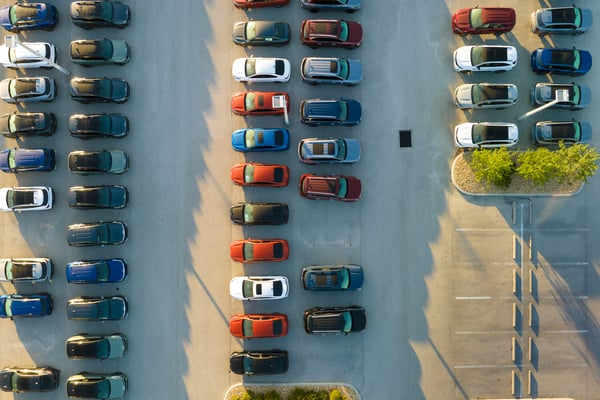 Guest Post by Khrys Dorton
My husband and I hit six dealerships in about six hours during inflation and an inventory shortage.
This is my tale.
For three years, I've been driving a basic Ford Fusion S. The Fusion was a necessity purchase, and to be honest, I never really cared for it. As a hobby, we'd periodically check around online to see if we could trade it or sell it for something we liked.
In April of this year, I turned 43. My family and I had gone out to breakfast, and I'd been feeling down in the dumps. Maybe it was a mid-life crisis, or maybe it was a slow decline from driving an unwanted base model. (Okay, maybe that's dramatic). Wanting to lift my spirits, my husband did the only thing he could think of. He offered to take me (car) window shopping.
In truth, we didn't think we could afford a new car with the state of the things. Still, we thought it might be fun. In retrospect, maybe we should have just gone to the movies…
Stop one was to drive through a local Chevrolet/GMC dealership. We are Ford/Chevy people, after all. Nothing really caught our attention. The sales associates were nice enough, although they clearly didn't want to be at work.
Leaving there, we meandered down the road to a Ford dealer. Stop number two. On the way, we called the bank just to get an idea of what we could hypothetically afford. Upon arrival, a Ford Edge caught our eye that was both in our price range and sporting the luxuries we wanted.
Alas, it was already sold. The only vehicles on the sparse lot were pickup trucks or vehicles out of our price range.
We started to get a little more excited at the prospect of buying a new car on a whim. (Happy Birthday to me!) We did what everyone does these days and started shopping online. Our search led us to a third dealership.
Our salesperson (who was quite efficient) quickly narrowed down our options and presented us with four vehicles. After thoroughly examining each, we met back up with our guy. "Sorry," he said, shaking his head. "All four of these sold since you walked in the door."
I practiced deep breathing, thanked him for his help, and moved on to the next dealership.
Next up was a Nissan store. Stop number four. Our sales associate was highly educated on all things Nissan and seemed eager to help us find a good fit, quickly directing us to a Nissan Rogue. It was perfect. Albeit being just outside our budget, there were bells. There were whistles. There was low mileage with added accessories, and it was blue!
I paused to check the NADA and discovered the dealership had marked this vehicle up almost $10,000 over MSRP. This, my friends, is where things took a sharp left. My husband and I inquired about the markup, pointing out our quote included a trailer hitch and packages that weren't actually on the vehicle. The Sales Manager got involved and started yelling at my husband and me.
Well, that didn't go well.
We were on the road again.
Feeling a bit disheartened, we headed into the fifth dealership of the day. Our salesperson was fantastic. I wanted to buy a car from her. She gathered all our wants before ever taking any personal information, and we felt like she really wanted to help us. In the end, despite all her hard work, we couldn't make the numbers work at this store. Still, this positive interaction energized us to keep going.
Tired, hangry, and uncomfortable in my basic Ford Fusion (did I mention it was basic?), I was determined to widen my search area. I turned to the World Wide Web yet again, willing the powers of Google to connect me with my fate. This was a last-ditch effort. We were done after this. A few taps later, my husband found it.
There she was. A 2022 Nissan Rogue SV with only 400 miles. It was white, with a black leather interior. Oh, how I love black leather! I held my breath. "How much is it?", I asked through gritted teeth. My husband grinned. "It's under our approval amount," he said, turning the screen my way. "It's also in Winston-Salem, two hours from here."
I was already typing the address in my navigation. It has black leather, for crying out loud! We weren't far down the road when the Internet Sales Agent called, informing us we could go to any Modern Nissan location to complete our paperwork, and the vehicle would be delivered at no extra cost.
I smiled for the first time in six hours.
We pulled into Modern Nissan of Concord thirty minutes later, showed them the vehicle online, and were shaking hands, kissing babies, and signing on the dotted line before I knew what hit me. The longest step in the whole process was going to the bank to get the check. We had our new car at 10 a.m. the next morning.
We absolutely love it! Our Nissan has bells and whistles coming out of her ears. There's nothing basic about this girl.
Here's a picture of my hubby looking serious. Inside, he's twirling with excitement.
Heated seats, a nine-inch display with a backup camera, dark tint on the rear windows, rear passenger in-door sunscreens, roof rails, carpet floor mats with a cargo mat, Panoramic sunroof with a moon roof, pop-up mesh moon roof deflector, and upgraded wheels! And did I mention the black leather!? The only thing they missed was offering accessories in the store because I would've swiped my card for all-weather mats in a skinny minute.
This was a birthday to remember.
Six dealerships, one screaming match, four cars sold out from under us, lots of bad coffee, too many handshakes during COVID later, and ultimately, rescued by good ole' online inventory.
Insignia Group Rescues Basic Vehicles
Let's be honest. That Ford Fusion didn't deserve this.
For more than twenty years, Insignia Group has been rescuing base models from a similar fate, one accessory at a time. We make selling accessories in-store and online a breeze with our sleek digital accessory catalog.
Get in touch with us to see what our system can do for your dealership!