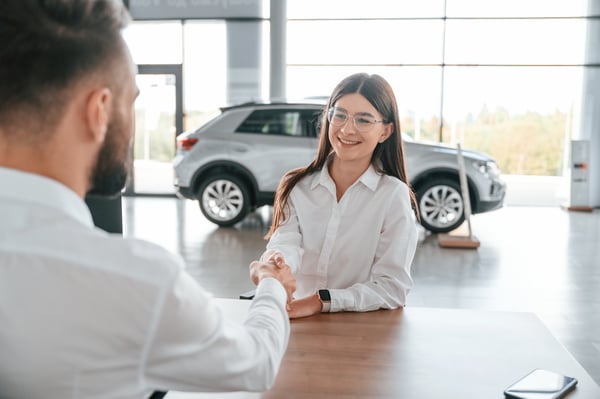 Customer expectation has morphed several times over the last several years. Today, the person's experience is more important than budget. The most successful dealerships are changing their usual way of doing things to adapt to the next wave of consumers.
Buyers now start their car buying process online up to 99% of the time. Some take steps toward buying their car before setting foot in the store, cutting their in-store time down to about ninety minutes. Even those who didn't start the check-out process online have spent hours researching and know what they want when they arrive.
Couple this well-informed buyer with a society that values a fast pace and high efficiency, and dealerships must make the most out of every minute they have with their buyer (or risk death by bad reviews).
The best dealerships appreciate their customers' time and create an environment where people can invest their time in the store rather than spend or waste it.
Here's how you can create an environment where customers invest their time:
(1) Ongoing Sales Staff Training
Don't train a salesperson once. Ongoing training on product knowledge and selling in an ever-changing market is critical to ensure sales personnel are confident and equipped to provide excellent service. There can't be any fumble on the transition from digital retailing to in-store. Keep training and practicing until the process is smooth and on auto-pilot, no matter how the purchase starts (or finishes). Listening is another key skill that has to be honed and perfected. Make the customer feel like their time is valued by listening well, being knowledgeable, and being efficient.
(2) Cut Out Any Unnecessary Steps
Wait time has the ability to kill your CSI scores and online reviews. Examine your sales process, trim the fat, or remodel it wherever possible to make it efficient. As a best practice, fill the wait time before F&I with an accessory presentation, allowing the customer to browse their options in a comfortable setting. Then, cut out the service introduction. It doesn't make sense anymore. By the time the person is ready for service, it's been months since they walked into your store, and they're unlikely to remember the service manager's name or where to go without signage and assistance.
(3) Utilize Technology
Another way to reduce unnecessary time in the store is to utilize technology. Schedule follow-up emails to hit the customer's inbox at the right time instead of printing out a stack of paperwork (like a We-Owe or parts and service information). Notifications of the first service appointment, a map of the service area, the first oil change free coupons, and an introduction to the service manager can all happen via email. Emails aren't as easy to lose and one less thing to physically keep up with.
Insignia Group Can Help
Insignia Group is the leading provider of digital accessory selling systems nationwide. For more than twenty years, we've helped dealerships across the nation sell more accessories at the point of sale. Selling accessories packs a serious punch, and our software makes it easy. Dealerships that offer accessories in-store and online improve their CSI scores, boost retention, and create additional income streams in the front and back of the house. We can help you fill wait time so your customer can invest their time rather than spend it at your store. Contact us for a demo of our system today.