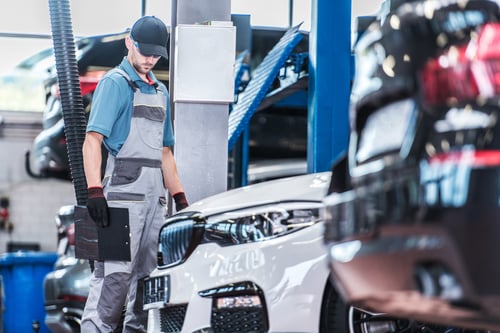 The service drive is the glue that's holding us all together. It would be the most highly coveted glue you can imagine if you imagined coveting glue. Service is the brand new glue stick in your pencil pouch on the first day of school—the purple one. If you want to make the other kids jealous, you've got to highly emphasize your supplies. If you're going to give the other dealerships a run for their money, spotlight your brand new purple glue stick (otherwise known as Randy from the Service Department).
According to Cox Automotive, "70% of customers who got their car from a dealer did not return for service in the past year." That's a big problem, considering falling vehicle profitability which wasn't exactly boosted by a global pandemic. Customers are going somewhere for service. As it stands, "somewhere" is getting those dollars instead of you. The service drive can keep a store financially stable, and you can boost the service drive with accessory sales. Selling accessories at the point of sale, creates a sticky relationship web between the customer and each department. Accessories provide an introduction to parts and service and the opportunity to make a stellar first impression—just like purple glue.
How Do Vehicle Accessories Get More Service Appointments
CNW Marketing Research, Inc. concluded that customers who regularly service their vehicle at the dealership of origin would come back and buy another vehicle from the same store, 86% of the time. The same study found that customers who seldom or never service their cars at the selling store will return, at most, 18% of the time. It's scoff-worthy. Creating a 5-star customer experience from showroom to service drive is a surefire way to increase your service conversion and boost your referral rate.
When you sell accessories to your customers, during the showroom experience, you do several things to reach the coveted end—a booming service drive! Vehicle personalization provides the ideal platform to demonstrate how seamlessly the departments work together. A simple accessory order, through your digital interface, will showcase excellent communication and cohesiveness to your customer. As they're brought into the conversation about their vehicle's part installation and service order, they'll have the opportunity for a touchpoint in every part of the store. Once Randy, the service manager, wows them with his winning smile and friendly demeanor, you're one step closer to closing a service customer for life.
Using accessories to point to service will:
Help establish a relationship between the customer and a service consultant and/or parts consultant.
Allow the customer to discover the dealership's service and parts offerings.
Provide fundamental knowledge of the importance of regular vehicle inspections and preventative maintenance.
Help keep a vehicle in the best possible operating condition.
Interaction with the service and parts department staff will:
Provide the opportunity to check for technical service bulletins published by the vehicle manufacturer.
Allow the dealership to maintain the latest contact information in the event of a safety recall from the manufacturer.
Give the dealership an opportunity to create unique service plans to meet customer vehicle driving and use patterns.
Make It Easier Than Ever for Service Appointments with Insignia Group
Insignia Group is the leading provider of digital accessory selling systems and accessory processes in the showroom, nationwide. Our online interface makes for squeaky clean cross-departmental communication with high transparency. Automatic emails for each accessory order, digital we-owes, up-to-date install information, parts, and labor pricing; means fewer balls dropped and more satisfied customers. We don't mean to brag; and, we are the purple glue of the industry. Let us help you make it stick.