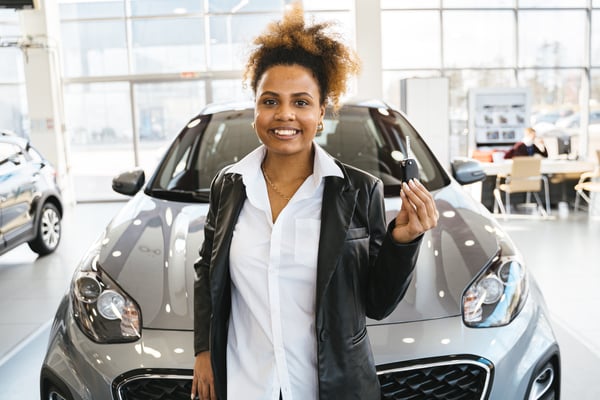 Customer experience will make or break you.
In a world of Google reviews and social media, the power belongs to the people. In 2021, customers want charcuterie boards and live streams of film festivals in the waiting room. Somewhere along the way, the automotive industry married into the hospitality industry, and now here we are—selling cars and imitating the Marriott at the same time. After a collective sigh and a group therapy session, we should all accept reality and transcend. CSI scores, referrals, and front-end gross are at stake. Dealerships in 2021 can meet and exceed OE goals, sell online and in-store, socially distance, provide a stellar 5-star experience, and create repeat business. Yes, even you, and we'll tell you how.
7 Tips to Improve Overall Customer Experience in Dealerships
Train Every Department on Customer Service
Even when you've got Mr. Personality crushing it in the sales department, one bad interaction with a grumpy service manager can throw it all away. Ensure success by creating a culture of customer service in your store, from front desk to service technician. You will quickly "wow" your customer (and earn an organic review) when there's helpful, knowledgeable staff at every touchpoint in your store.
Be Readily Available, Everywhere
You can strategically cover all your bases with the help of your village. Take some time to gauge where most of your communication is coming from, so you can put the appropriate amount of resources in the right place. You'll want great salespeople to cover the phone, excellent typists on live chat and email, friendly staff to cover the door, and any old iPhone addict to respond to texts and social posts. The more easily a customer can contact you, and receive a quick response, the higher the chances of extracting a good review or a new referral.
Listen Well
Become a student of your customer from the first interaction. Make notes in your customer management system about anything the customer may have mentioned in your initial communication, so that you can use that in the sales process. Ex: "You said something about traveling for work. How much time do you expect to spend in your car?"Find out who the person is, their lifestyle, what they need, and what they want. It's your job to listen and ask great questions so you can make informed recommendations.
Sell the Perfect Car
You can build the ideal vehicle for any customer on any budget. Your confidence will go a long way here. When you know your customers' lifestyles, you know what accessories would benefit them the most. Personalizing the vehicle at the point of sale and rolling the payment in with F&I opens up a world of possibilities. Upgraded leather seats are everybody's love language. It's science.
Make Wait Time Worth It
Put yourself in your customer's shoes. Car buying can be a long event, with much paperwork, some negotiation, and plenty of decisions. What would recharge a person after those things? Comfortable seating with phone charging stations, a safe play area for children, complimentary snacks and drinks are a given. Everybody who's anybody is doing that. Take it up a notch. I dare you to open a deli in your store. I dare you to create a mini "drive-in" movie theatre. With reclining seats. And a popcorn machine. I dare you to have a meet and greet with Justin Bieber. I'm kidding, of course. However, please call me if you do!
Follow Up and Keep Pursuing
Everyone knows you're supposed to keep dating your spouse to keep the spark alive. The same goes for your relationship with your customer. After the sale, send a thank you note. A few days later, ask for a review. Send free oil changes in their email. Send a Christmas gift. Send maintenance reminders, with a personal note from the service manager, (Example: "Hi Stan, you're due for a tune-up and a reality check on how bad the Red Sox look this year. Come on in….")
Lovebomb Your Customer
Everybody loves their 15 minutes of fame.
Highlight your customer on social media with their new ride.
Let them spin a wheel to win a prize.
Give the first customer of the day a gift card.
Give out roses on Mother's Day.
Host a sweepstake.
Have masks on hand.
Have baby toys on hand.
Hand an iPad over with accessory options, and walk away.
Give some space to your introverts.
Take some selfies with your extroverts.
Treat everybody with excellence!
A Vehicle Accessory Sales System with Human Help
At Insignia Group, we believe accessories factor into every part of the customer experience. Accessories provide the vehicle your customer wants, on the budget they need, while boosting front-end gross in your store and creating repeat customers. We are the leading provider of digital accessories selling systems and expert consulting on personalization processes. To achieve the impossible standard of selling cars in 2021, you'll need a fantastic customer experience. Accessories are a huge part of that. Schedule a demo today and don't miss out on the opportunity for increased sales profits!