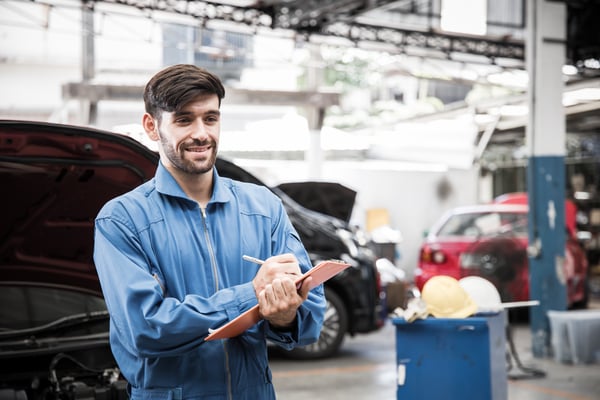 If your dealership only puts extra effort into the service and parts departments when sales are low, you need to get real. Fixed operations deserve the same love and attention as your variable operations departments! We have four proven methods to increase service customer leads, customer satisfaction, and increase revenue.
Is Fixed Operations a Difference Maker?
According to Cox Auto, fixed ops contributed 49% of dealership gross profit. What's more, "74% of car buyers who had their vehicle serviced by the dealership of purchase said they were likely to return there to purchase their next vehicle, while only 35% of those who did not have their vehicle serviced at the dealer said the same." The benefit of investing in the fixed ops department is evident. As one of two pillars holding the store up and regularly churning repeat business, service ought to get the focus and incentive (which is primarily held for the sales department).
4 Automotive Fixed Operations Tips
Put Time and Effort into Marketing Your Fixed Ops
A service drive's top competitors are franchises like Valvoline and Jiffy Lube, which are household names. The competition spares no expense on marketing efforts. Your dealership should create a budget to market your service department as its own store, at least on the front end. To get started, focus on: optimizing your website to appear in search results, marketing your service department across all social platforms, and heavily emphasizing getting glowing reviews. The better you look online, the more likely someone is to choose you.
Transparency and Efficiency Matter
Suppose an award-winning experience is essential on the sales floor. How much more important should it be in service, where 90% of your daily traffic resides? Providing exceptional service starts with transparency. In the information age, gimmicks don't make it off the ground. Set the right tone with service customers by giving them a realistic turnaround time for both installations and routine services. When quoting an install, always include labor rates and make sure your customer understands how you got to the total sum. After service, capitalize on the time with your customer by having a technician personally walk the customer around the car to discuss the work that was completed and what may need to be scheduled soon.
Exceptional Customer Communication
There's a stigma surrounding car dealerships that prices are always inflated, and every employee is performing a sleight of hand. Disarm service customers before they get in the door by posting on social media and emailing personal invitations from a service employee. People connect with faces, so introduce your newest service technician on Facebook and send it to your email list. Tell them about Joe's new puppy and offer 10% off for anyone who shows Joe a picture of their dog as well. (Just get creative, okay?) And, when you do work with a customer, take the time to explain (in layman's terms) what services have been done, things to look out for, and recommendations for optimal performance. Service is a lower-pressure environment than sales, and an easy way to build trust with a customer.
Think Outside the Box to Build Loyalty
Like "Joe's puppy deal"; draw from your own environment, the season, and your clientele to build loyalty. For example, do you live in a town dominated by a major league baseball team with a passionate following? Tell customers when they wear their team gear to their service appointment, they get a discount. Or a donut. Or a stamp on a loyalty card, which is working towards something bigger. Utilize accessories at the point of sale to get customers into the service department sooner—while the rapport from the front of the house is still fresh. That's how you'll get customers participating in dog pictures and baseball shirt challenges.
Get Customers into Service Lanes in Days—Not Weeks
Across the nation, all 22 brands of dealerships are selling accessories at the point of sale through the Insignia Group system. Insignia Group is the leading provider of digital accessory selling systems and consulting services. On average, dealerships using Insignia Group add an extra $250,000 in accessory revenue to their bottom line each year. Not only do we increase revenue through accessory sales, we also boost fixed ops numbers. Each year, roughly 800 customers come through the service department via accessory orders due to accessory sales. Those are customers, who otherwise wouldn't be seen again until their first oil change six months after the sale—or possibly wouldn't be seen at all. The digital system connects the sales department with the service department for a more streamlined process: showing parts pricing, install updates, We-Owes, and more (in a user-friendly manner). It also has excellent customizable features like labor times, labor rates, and custom installation rules that automatically update everything throughout the system. So get started with our system to quickly, and easily, boost revenue for your dealership, and get more vehicles in the service lane today!