You don't have to be a gearhead to get hired at Insignia, though birds of a feather do flock together. Whether an employee comes in the door an auto enthusiast or just starts drinking the kool-aid over time, the team at Insignia is comprised of like-minded, motor lovin', tinted, lifted, and hitched aftermarket die-hards.

When the behemoth of trade shows comes around, there's not an Insignian from data to technical support that isn't vying for the opportunity to attend. We're talking SEMA. Mac daddy. Colossus. You can't even eat lunch with David unless you've been. (Kidding. Actually no one wants to eat lunch with David.)
This year the management team nominated deserving employees to attend the show. Nominees submitted their most compelling explanation of why they should be chosen to represent Insignia at SEMA. Of the many submissions, two were so good the management team had to send both.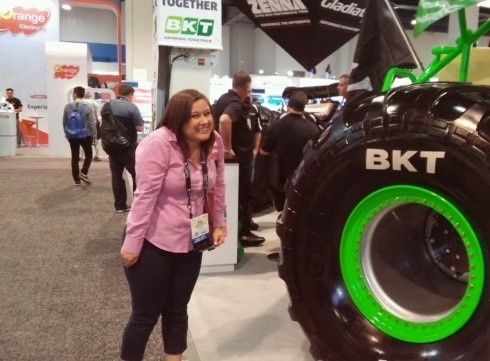 Data Specialist, Sarah Patterson has been dreaming of SEMA since childhood. "As a little girl growing up, I picked Hot Wheels over cute, frilly dolls" Sarah begins. "Each year growing older the fascination only grew--playing playstation games like Need for Speed, looking over the SEMA magazines my father would bring home from work, and building my own vehicles on OE sites."
If Sarah hadn't earned the vote at childhood dream, she surely sealed it at the thought of her 8 year old self building OE's. "When I was told I was chosen to attend the SEMA show I literally cried!" Sarah said. "Pure tears of excitement and joy. You have no idea what the words, "You are going to SEMA." meant to me."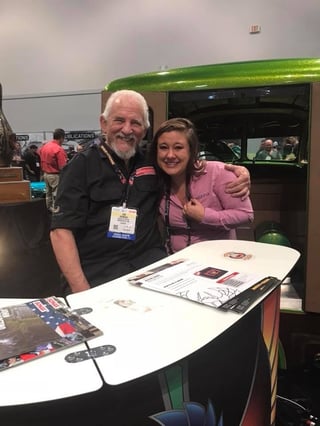 Sarah describes her experience as exceeding her expectations by a long shot. The unimaginable vastness and the jaw-dropping opportunity to ride along with professional drifters was captivating. But the best part of the experience? Meeting John Kosmoski, creator of House of Kolor paint. Familiar with his beautifully crafted projects for many years, Sarah's cubicle back in Rock Hill, South Carolina displays her prized House of Kolor poster with Kosmoski's autograph. "My father was able to meet [John] before. Getting to meet him was an honor to me."
Sarah's travel companion was Customer Care Expert, Khrystal "Khrys" Dorton. While Sarah went for the heart strings, Khrys got right down to business. "My dealers ask about aftermarket and I wanted to be better informed on what that meant--I just had no idea how big the answer was going to be."
People, this girl just wants to better serve her customers--and needed a little trip to the Bellagio to do it. When Khrys was chosen for the trip, she says she was quietly excited while doing a happy dance in her head--maintaining professionalism, of course. Khrys described finally putting a face with clients she's talked to over the phone for months from companies like AutoNation, Auto Additions, DualLiner and Katzkin.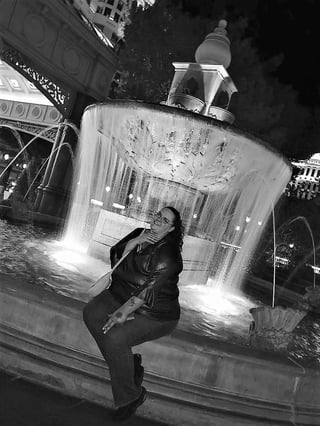 "It was great to meet them in person. I feel like we have a better understanding of the needs and expectations of our mutual dealers." When asked about her aftermarket learning experience, Khrys says the whole shebang was breathtaking. "I expected to see aftermarket products that we have activated in the Insignia system, but I don't think I was quite ready for the quantity of other options. It was overwhelming at first."
Both ladies said if they got the opportunity to go again, they'd try to see every booth from front to back. A lofty goal, but they're up for the challenge. So what was SEMA 2017 in one word? AHH-MAZING.