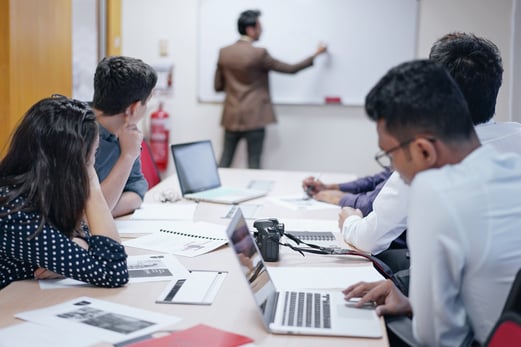 You just landed a new job selling cars. Maybe you've got the stereotypical car salesman in your head, and you're unsure how to approach your customers. The good news is, it's not as hard as you think. It's simple—follow a proven process, and it works!
First, know that someone walking into the dealership doesn't equate to a qualified lead. It's your job to qualify the customer to determine whether they're serious about buying a car or not. You can easily find that out during your needs assessment, which will be your first step.
Three Birds, One Conversation
A needs assessment includes building rapport, determining the customer's intentions, and uncovering their dominant buying motives. This should flow like a natural conversation rather than an interview with the customer.
Ask what the customer is looking for and what attracts them to that particular vehicle. Find out about their lifestyle so you have a clear understanding of what accessories would benefit them. Is the car for one person or a family? Are they driving around town, constantly on the road for work, or somewhere in between? What are their hobbies? What's important to them? Also, determine how much time they spend in the car and for what purposes—you'll be able to recommend appearance, comfort, convenience, and protection items more intelligently.
Getting to know your customer as a person and a car buyer will build natural rapport, let you know where they are in the process, and arm you with dominant buying motives you can use later.
Some examples of dominant buying motives might be rewarding themselves, a physical need for a vehicle, a growing family, or safety for a teen driver. Use those as you sell, always referring back to them.
Using a Trade-in To Your Advantage
If your customer is trading in a vehicle, you might have a leg up in closing the deal.
Trade-ins give you a window into the customer's world, help you ask better questions, and tell you things your customer didn't.
Keep accessories at the forefront of your mind when you walk around the customer's trade-in vehicle without mentioning them to the customer. You can't sell accessories before you sell the car.
Notice if there are dents and dings, any paint chipping off, whether the carpets and seats are clean, etc. Is there any evidence of pets having been in the car? Is the customer a smoker? Is there a trailer hitch, running boards, or specialty accessories (think fender flares, gas covers, etc.)? All the accessories you notice on the car or think could benefit the customer will fall into two categories: wear and tear or specialty items. Make as many mental notes as possible, and refer back to them when presenting accessories.
Generally, people buy cars with the same or similar accessories as their old ones. If they had a remote start in their last car, you could bet they'll want one in their new vehicle!
At this stage, there's no need to say much of anything. Just be polite. Most of the time, customers will divulge information on their own. The best advice is to walk around the vehicle silently, and when you come to a blemish, simply look at the customer. They'll explain without you saying a word.
Presenting Accessories, Profitably
There are several ways to present accessories at the point of sale. The method you choose will be specific to your store's process; and/or your individual sales style (possibly, you using a combination of things or trying different approaches each time) to see what fits. Regardless of the route, you take present accessories before going into F&I using one of these proven methodologies.
Parts Freebie Method | Many freebies are cheap to the dealership and a nice perk for the customer. Using the custom package builder in your digital accessories catalog, you can load free items like a hat, keychain, or cup. Tell the customer you will register them for their free product, then let them choose. This is an easy lead-in product to view other accessories.
Accessory Manager Approach | In this method, the salesperson tees up the accessory presentation for a dedicated accessory manager. For their efforts, sales receive a flat rate or percentage-based commission. After the car sale is complete, sales should introduce the customer to the accessory manager during wait time for F&I. The accessory manager can use lead-in products, custom dealer packages, or parts freebies to begin the presentation.
Customer Service Advocate | Disarm your customer with important customer service points before transitioning into the accessory presentation. Start by asking at least three standard questions that you would review with your customer regardless. An example of those would be: asking about delivery information, insurance information, and inquiring about their knowledge of the service department. These are customer-focused, no-pressure questions. For the fourth question, switch to accessories. "Have you had the opportunity to personalize and protect your vehicle with accessories?"—the obvious answer will be no, which gives you an easy lead-in to the accessory presentation.
Preloaded Packages | Many dealerships find success by preloading every car with a custom package, including three items. When the customer is introduced to the vehicle, the salesperson can start the accessory conversation by letting them know that the car is outfitted with the most popular items for that vehicle. Then, the salesperson can ask, "You would certainly want those for your car, right?". This method forces the customer to agree or disagree with the package in its entirety, or a portion of it, giving you an insight for the future presentation. Once the car deal is done and you present accessories, you can bring up the package again. Ask, "Which one of these accessories can we move forward with?". If a particular accessory within the package is already port-installed, tell the customer, "This accessory is already included so that we can take $XYZ amount of dollars off the price. You want the other two, correct?".
Manufacturer Scapegoat | This method is useful to counter objections and present accessories. This approach takes the pressure off of the salesperson and is helpful for a more closed-off customer. Present accessories using the excuse that the manufacturer asked you to do it: "Subaru has asked us to make you aware of what's available for your vehicle, to personalize and protect it." It communicates to the customer that this is simply part of your job, it's not your idea, and you have to.
Lead-in Products
Using a lead-in product is a strategic way to sell more accessories.
A lead-in product is a product you offer consistently to every person because of its common benefit. It serves as an intro to your accessory presentation. The product will be something that you're confident you can sell to every customer—based on its popularity, clear necessity, or price point!
Some dealerships have found success leading in with a remote start during the winter months, then changing to window tint during the summer. Other dealers use the parts freebie or a coupon for a free oil change as the lead-in offer.
Whether it's an individual accessory or a package, it must be presented consistently! It's a conversation starter that translates across all brands.