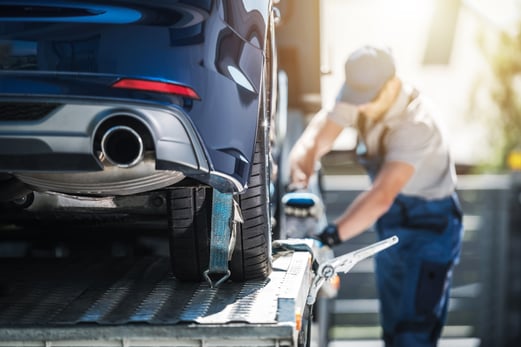 Dealership service advisors have the opportunity for upward mobility. With a high school diploma and some automotive education or experience, you can begin your career as a service advisor with a clear path for advancement.
From there, becoming your dealership's top service advisor will increase your salary and put you on the path to climbing the ladder. Whether your plan is to become the top service advisor—and maybe, eventually, a service manager, or even a general manager—it starts with excelling in your current role.
In an ideal world, your dealership supports your advancement and offers continuing service advisor training to help you improve. If that's not the case, there are things you can do to create your own success.
Follow these dealership service department best practices to become the top service advisor in your store by 2023!
Dealership Service Department Best Practices
Sales Training is Dealership Service Advisor Training
A dealership service department best practice is to take sales training. While service advisors may not think of themselves as salespeople, sales are happening in the service drive every day.
If you're selling in any capacity, you can't do it without training! If your service advisor training didn't cover sales techniques, seek it out on your own. Shadowing a top performing salesperson or sitting in on sales training might be an option. You could also look at outside sources such as the Kintz Group.
Successful salespeople are highly trained and follow a specific process to close a sale. It doesn't matter if you're selling cars or upselling service customers, the strategy is the same. Learn to qualify the customer: fill the need, identify objections you can overcome, and close the sale to boost your career as a dealership service advisor and beyond. If those words sound like a foreign language to you, that's a good indication you need some sales skills.
Don't be afraid to ask for help or feel like you should know everything. Sales is a tricky business and shouldn't be done haphazardly. In fact, selling without training could end up backfiring!
Service Advisors Need to Be Consistent
When you're performing at a high level of customer service, you understand that consistency is the glue that holds it all together. Regardless of whether your customer stopped in for an oil change or is in for a new engine and cylinders, they get the same treatment from you. Warm greeting focused attention and ensuring they have a full understanding of what you will do. End with the same thank you when you cash out a $65 customer or a $4,000 customer. Consistency is key to your path to success.
Be this steadfast in your day-to-day routines as well. Plan your days in advance so you're never running from one fire to the next—giving your coworkers and customers a frazzled version of yourself. Find what works for you and stick to it. If you prefer to knock administrative work out early in the morning, do that every day. If you know you can service 10 customers a day with excellence, don't try to service 12. Stay the course and stay focused.
Lastly, remember your goals. It will help keep you motivated on hectic days if you remind yourself what you're working towards. Set measurable goals on your path to becoming the dealership's top service advisor and keep chipping away by showing up and staying consistent.
Successful Service Advisors Excel in Customer Service
The single best way to become the top dealership service advisor is to break the mold of customer service. First impressions can make or break the customer's life span with your service department.
Though it may seem obvious, make sure you greet every customer warmly. No one likes to be ignored, or spoken to like they're an interruption. Treat people like they're important by making eye contact and truly listening to them. Then, repeat their need or concern back to them ensuring you're clear on each touchpoint.
While doing the inspection, take videos with your phone so you can show the customer any additional findings or areas of concern. Explain things to them in layman's terms and never talk over your customer's head. When a customer leaves, thank them for their business and send a follow-up note via email, text, or snail mail. Create repeat customers by staying engaged. Experiment with sending short video messages inviting them back in when it's time for service.
If a customer feels well taken care of, they'll remember you. A personal connection with a dealership service advisor will go a long way with customer retention!
Culminate Your Best Service Practice and Excel
Whether you're currently a service advisor or hope to be one, we recognize that the job isn't easy. Often General Managers rely heavily on the service department to keep the dealership profitable and that can result in a lot of pressure.
The best thing you can do is focus on what you can control to move forward. Keep the team in mind always and have a company mindset. Provide that stellar customer service to advance your career and improve the reputation of your dealership. Take the extra sales training so you can close more deals. You'll make more money for yourself and your department, which is a win-win! Remain consistent in your routine and goals to keep pushing the dealership forward, while walking your personal path of career advancement.
Lighten your load wherever you can. Teaming up with parts and sales, instead of staying in a silo, will keep your department running smoothly. Take ownership of the department and exceed expectations!
If you need help increasing sales and learning the best way to do it for the service department, contact Insignia Group now. As the leading provider of digital accessory selling systems for dealerships nationwide, we're experts at boosting your bottom line and coaching you along the way.
Schedule a demo today to see how we can help.