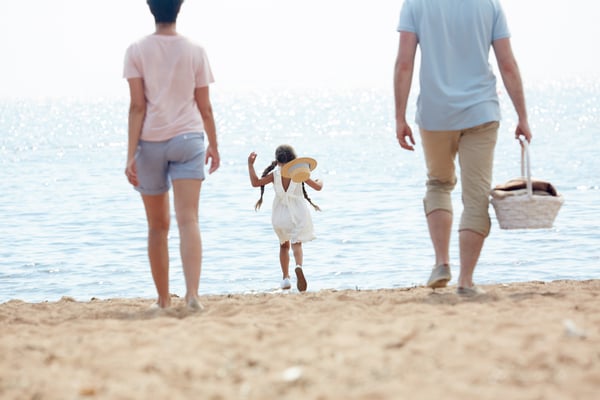 Full-on summer vibes are here, no matter where you are in the country. This season, more than ever, Americans are flocking to the beach, the lake, the hills, the pasture, or anywhere that isn't home. That's great news for the automotive industry because more time in the car translates into a greater need for accessories. Check out these hot summer accessories that will work for any vehicle on your lot.
Beach Car Accessories Your Customers Want
All-weather mats
A must-have for every vehicle and every kind of driver, you might as well make these your lead-in product. Sandy feet getting in and out? All-weather mats. River mud on your crocs? All-weather mats. Carpooling the little league team? All-weather mats. Going to Costco? You guessed it—all-weather mats.
Cordless Mini Vacuums
These are a game-changer for keeping your vehicle clean. Whether your customer is toting people, pets, or clocking a lot of miles; a cordless vacuum will come in handy weekly. Crushed goldfish, be gone. Crumbs, dirt, and other minor spills won't have to wait until that annual clean-out. Pet hair...actually, not pet hair. Pet hair is for life.
Waterproof Seat Covers
Another easy protection item to add revenue to your car sale are seat covers—the perfect summertime accessory. Summer is full of wet towels, wet bathing suits, wet dogs, and wet equipment: resulting in a general potential for mildew. Nobody wants that kind of damper on summer fun. Waterproof seat covers to the rescue.
Cargo Organizer
Summer travel calls for organization. There's not one person that couldn't benefit from a cargo organizer in some way. Even the most rigid business professional, that takes a hard pass on vacationing, needs a cargo organizer. They're not just for summer; they're great for groceries, sports equipment, or just impressing your friends.
Cargo Liner (Rubber)
Have you ever taken a sharp left and heard the cooler tip over in the back? (Just me?) Your customer can probably relate to a spill or mess of some sort in the cargo area. These are easy upsells to any customer due to the convenience of wiping down the disaster rather than throwing the whole car away.
Roof Racks
Roof racks alone or roof racks with kayak, paddleboard, or surfboard attachments have adventure written all over them! Isn't adventure what 2021 is all about? The answer is yes—because after the year we've had, sitting inside a Starbucks is an adventure. All those actual adventurers will consider roof racks a non-negotiable, making it an easy upgrade.
Portable Shower
You'll meet two types of campers this summer: the rugged extremist and those that take a shower. If you're a good enough salesperson, you may even sell the extremist on a portable shower when they see how cool it is. Consider presenting this fun accessory more often than not. There's plenty of summer scenarios where a portable shower would come in handy.
Now you know some fun and practical accessories a customer can add to any vehicle they will purchase from your store. Even if your store doesn't offer portable showers, mentioning fun accessories like that can help you see what kind of person your customers are and help you easily introduce the idea of purchasing accessories while they are there.
Insignia Group Makes Your Customers Think of You at the Beach
Insignia Group is the leading provider of digital accessory platforms, enabling you to present and sell accessories at the point of sale. When you're personalizing vehicles, you add revenue to every car sale and create satisfied, lifetime customers. Changing up your outfitted vehicles and personalization pitch with the season will cater to your customers' needs. When you listen well, ask great questions, and make the perfect recommendations; your customer feels understood. Not to mention, they get the vehicle they love, leave glowing reviews, send you a Christmas card and tell all their friends. Yes, accessories can do all that. Do you have a plan?