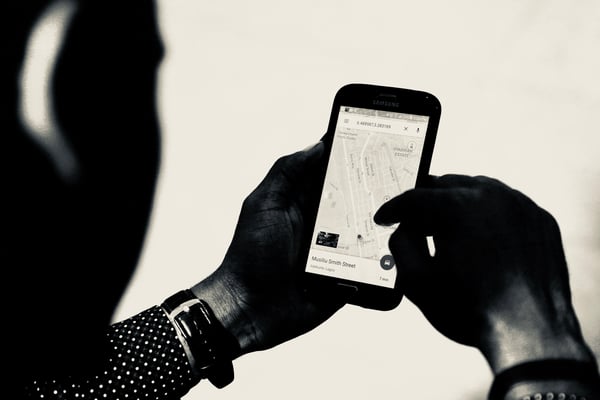 Who better to focus your efforts on than the prospect in your backyard? Local marketing is a form of both traditional and digital marketing that dealerships need to be heavily involved in, if they want to compete for the market share of the automotive industry, in 2021.
Gone are the days of paying someone to put your jingle on the radio and seeing the people come in because they've established trust in you, from hearing your dealership name 87 times in the last few weeks on 98.9FM. Now you must be local, on the internet, which sounds like an oxymoron. Search engines, Siri, Bixby, Alexa—all of these run on proximity of the device to your location and how active your dealership is on the internet.
We want your dealership to thrive when selling accessories. Which means, we are willing to give away our marketing knowledge to you, for free, so you can keep bringing in the sales leads.
Maintain Your Google My Business Profile
Every dealership should utilize a Google My Business profile. It's free advertising and an easy way to connect with your customers. Keeping an updated profile enables your dealership to show up when customers search for your dealership. You'll be able to engage with customers through this free resource and go after more leads. Regardless of how insignificant the interaction, dealers should capitalize on every opportunity to connect with customers. Many prospects call or email your store, asking about inventory, only to fade into the mist after a brief interaction. Instead, sales staff can follow up with those lost leads to keep them moving down the pipeline. Since your prospects are hanging out online, ensure you're there too. Make your presence on the internet sticky with an optimized site, social media platforms, and a great Google My Business profile.
Partner with Other Local Businesses
Dealerships involved in the community boost their word-of-mouth marketing tenfold. A great way to get your good name out there is to partner with local businesses and cross promote each other. Whether it's placing business cards at each other's front desk or advertising in the school brochure, local marketing gets you in front of your closest customers. You might consider a fun promotion with a local animal shelter, like offering to pay for half of one animal adoption after the car purchase. Maybe you sponsor a local Little League team and give away prizes at the opening game. Whether it's a bakery, a mechanic, a bookstore, or a slew of other businesses, there's always a way to mutually benefit from cross promotion. Actively engaging in the community can also get you featured in your local newspaper and reach more people than you think.
Get Reviews
Reviews were already the puppet master before COVID-19, and now they're dominating in plain sight. In every corner of the internet, online reviewers tell your prospect whether or not they should consider contacting you. Facebook, Yelp, and DealerRater are only the obvious sources. Reviews are hiding under rocks you didn't even know existed. The only way to address this is to face it head on and control what you can. First, ask for reviews in every tactful way imaginable. The more positive reviews you receive, the more impactful you become online. Use your creativity to encourage reviews with visual reminders online and in your store. Offer prizes or drawings for people who leave a review. Spin a wheel (virtually or in the showroom) for a fun prize when customers review your store on a dealership tablet. You can offer the customer the opportunity to participate in the game, or drawing, by writing a review and then leaving them alone with the device while you grab them a coffee. Low pressure is a beautiful thing. When you communicate with a customer online, you may incorporate pop-ups or follow-up messages asking for five stars. Get familiar with drip campaigns, and include asking for reviews within those.
Conversely, when you do get a critique, respond with promptness and grace, publicly. You can show what kind of store you are by responding well. Above all, go above and beyond to provide an excellent experience to every prospect and customer you meet. There's no substitute for incredible customer service when it comes to getting positive feedback.
Create City Pages on Dealership Website
An essential part of digital marketing is making sure your dealership is in front of your store's prospects. Use search engine optimization (SEO) by including the names of towns and cities on your website. That can be as simple as a contact section that lists the areas you serve. Since you're expanding your footprint on the internet, make sure the NAP (Name, Address, Phone number) on your website is consistent with your Google My Business page.
A great way to make sure your website appears in most of the cities your customers come from is to create neighborhood pages that have the city/town name littered throughout headers and in the content so anyone who searches for "2021 Mustang Topeka" is going to find your dealership that is in or around Topeka.
Geo-Fenced Paid Ads
There's indeed an abundance of free marketing available to your store. Don't let that deter you from the power of paid ads! The internet is the size of the Milky Way Galaxy, and many voices get lost in cyberspace. Get in front of your target audience with geo-fenced paid ads, if your budget allows. Geo-fencing can run on social media platforms or other outlets and target customers within a set geographical location. When a customer (with their smartphone location finder turned on) enters your virtually "fenced" area, they will start receiving ads for your dealership for up to 30 days. With this technique, you can even target your competition's audience. It just takes being smart about whom you want to get in front of and where those people are likely to be. A geo-fencing case study showed how one store attracted 500 prospects to their website using this technique. Not bad for a month's work.
What techniques are you exploring to reach customers in your area?