Receptionist promoted to accessory manager.
Thirty dollars in increased per new vehicle retail.
Fourth out of ten dealers in a Subaru accessory challenge.
Increased sales in Subaru's Care Connect program.
These are just the highlights of what's happening at Brandon Tomes Subaru.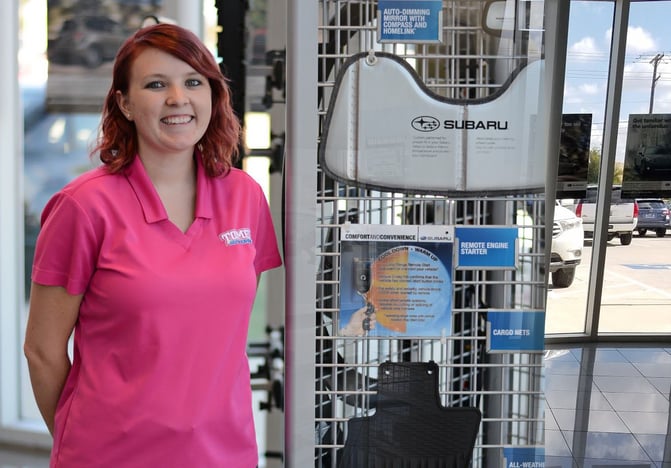 Just over a year ago, Lorilei Miranda started a new professional venture as the first face the customer sees at Brandon Tomes Subaru in McKinney, Texas. As the receptionist in this community and family-oriented dealership, Lorilei took great pride in welcoming customers and making them feel right at home. It was her sunny disposition and commitment to excellence in this position that caused Sales Director Zack Alia to take notice. When the accessory manager position opened up at Brandon Tomes, Lorilei was approached with the offer to be promoted to this specialized role.
The bones of accessory sales were established before Lorilei fully took on the program. Lorilei made it her own, and she is putting Brandon Tomes Subaru on the fast track to success and sustainability. Prior to Lorilei taking charge, if a customer specifically asked about accessories, Lorilei's predecessor had used a brochure of Subaru OE accessories to present the customer's options. Members of the sales staff were used to turning the customer over for an accessory presentation, but only when the perceived need arose. Lorilei wasted no time in revamping the process, taking language and program training from Insignia consultant Shawn Skalski, as well as developing her own style of presentation.
This dealership's process involves registering the customer in the accessory system prior to meeting him or her. Lorilei receives the customer's information from the salesperson, creates an account for the customer, and then she approaches the customer to present vehicle personalization in the showroom. An accessory area boasting Thule racks and Subaru OE accessories sets the stage for customization, and paves the way for Lorilei's pitch.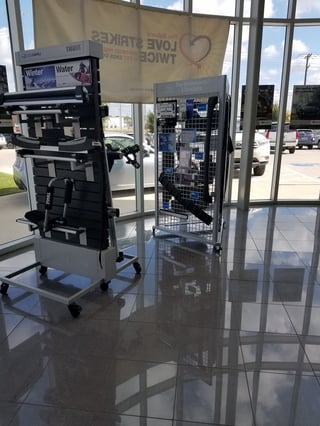 "First, I ask the customers if they have any hobbies, and give them some examples," Lorilei said. "This way, I know what products to hit on more so than others. Second, I ask if there is anything specific that they can't live without, that isn't already on the car. Once I have asked them these questions, I tell them that I am going to go through the list of accessories, and if they see something that they like, or if they want to stop me, I can go more into detail about the product. The whole time that I am going through the list, the customer can see the screen. This way, they can follow along with me."
It's Lorilei's attention to the customer and dedication to growing this program that have positioned her to advance in her career and to increase the front-end gross profit for the dealership.
Congratulations to Lorilei Miranda and to everyone at Brandon Tomes Subaru, for setting an incredible example!