Year after year, a handful of Insignia customers rise above the standard and process millions (with an "s") of dollars in accessory sales through the Insignia system. Though our process is proven, it takes dedication and innovation on the dealer level to attain this level of success. As a company, we want to recognize the dealers that jumped all the way in to the idea of personalizing every vehicle in the showroom.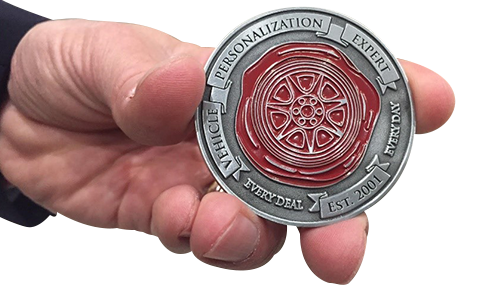 Challenge coins are well known in military and public servant culture. The coins are rare; presented to honor special achievement or prove membership to an elite group. Coins bare an organization's emblem and are about identity. While the story of the origin of challenge coin is a little uncertain, many sources tell a story similar to this:
"One story dates back to World War I, when a wealthy officer had bronze medallions struck with the flying squadron's insignia to give to his men. Shortly after, one of the young flying aces was shot down over Germany and captured. The Germans took everything on his person except the small leather pouch he wore around his neck that happened to contain his medallion.
The pilot escaped and made his way to France. But the French believed he was a spy, and sentenced him to execution. In an effort to prove his identity, the pilot presented the medallion. A French soldier happened to recognize the insignia and the execution was delayed. The French confirmed his identity and sent him back to his unit."
Regardless of the details, we know challenge coins are a prestigious, identifying token—and that's why we're delivering Insignia challenge coins to our outstanding customers.
In 2016, Insignia will be traveling to visit our top dealers and recognize their achievement in the automotive industry by presenting each with a challenge coin. Our success is dependent upon our dealers, and we appreciate hard work and initiative. We look forward to sharing this journey!
By: Whitney Williams, Social Media Expert at Insignia Group