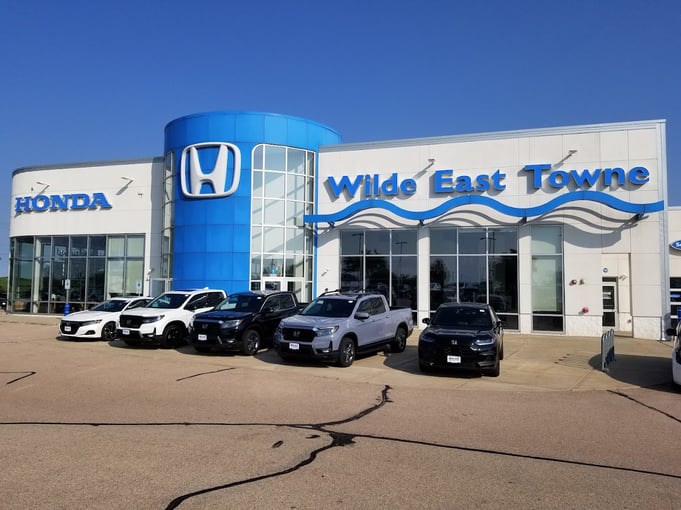 Prebuilt Packages Generate Consumer Interest
In Madison, Wisconsin, Wilde East Towne Honda has over $190k in accessory sales revenue. How do they do it? By following best practices of course! In the digital age, dealerships are finding it harder to push accessories when customers are shopping online. However, Insignia Group's system makes it easier than ever to shop for accessories online and see how they'll look on their new vehicle.
Insignia Group had the pleasure of speaking with the general manager, Peter Bothe, about how his dealership acquired its accessory sales magic.
Q: What is the typical amount in accessory sales your store does in a month?
A: "Around $25,000 a month."
Q: Your store has over $190k in revenue this year, how do you think it got to this astounding number?
A: "I would say that we have that success by mainly making sure every customer gets presented accessory options every sale. Another best practice is prefilling the customer's cart with popular items beforehand, so they see it as a suggestion. Usually they go with the recommended items to personalize their vehicle. Then we allow the customer to customize at their own pace. Things have changed over the last couple of years with covid and more digital sales. That's been a big problem in the accessory realm because the momentum changed. So what we've been doing to combat that is to presale that car and notify the customer when it's in transit of their accessory options that they can have ready on their vehicle when they come to pick it up. And it has been a little bit slower than in recent years because of the inventory issue but its getting better now."
Q: Do you have any advice for other dealerships out there who might be struggling with getting employees to "buy in" with using our system to promote accessory sales?
A: "I think the biggest thing is seeing the value in accessory sales. Salesperson motivation has a lot to do with compensation and to see how much accessory sales add to their paycheck. That's been a big success for us."
Q: What feedback do you have for us about our system? Any likes or suggestions?
A: "I really love the back end side of it. We use the organization as our We Owe list. When we have the order submitted and not fulfilled, just sitting out there, that's what we use to get it done. I love the reporting side of it because the data is very good. It's all very useful from the reporting, the tracking, and the communication between all the departments is probably the thing that attracts me the most to the Insignia Group system. Because as soon as the order comes through it's communicated to service, parts, and all the departments that need to know what's going on with it. Everybody's in the loop. When there are messages back and forth, everyone is notified of the status of the order. When you don't have a system that tracks accessory sales, it's very hard to keep track of that. So I think Insignia Group does a really good job on the back side of it, not to take away anything from the front side of it, but the back side is really useful to us."
Q: How has your consultant been doing? Want us to pass along any compliments?
A: "I have known Roger since before his start at Insignia Group. When I got a call from him, it was a very welcoming addition. Roger is fantastic and very communicative. One thing, especially being a general manager, is that Roger knows how to respect my time. I have my hands full a lot of the time, and the fact that he works with my schedule to accommodate that is a big thing for me. He always checks in with me to see how much time I have. He's very thorough and always brings best practices and I'm a huge best practices guy."
Boost Your Revenue Today!
Wilde East Towne Honda makes a whopping $190k in revenue through consistent presentations and the use of popular items. This dealership's success should inspire you to utilize best practices to increase your closing ratio. And with a general manager like Peter, this dealership is unstoppable when it comes to accessory presentations!
If your dealership wants to be as successful as Wilde East Towne Honda, get started with us today!