It's one thing to come out of the gate with a fresh idea and sell a million dollars in accessories in your show room. A million dollars is nothing to scoff at! No one would argue that's a commendable achievement in the automotive industry. It's another thing entirely to make the million dollar club two years in a row. Now we've developed a habit, Now we're talking about a proven process and a team that's dedicated to the goal.
Insignia Group would like to honor second year million dollar club member Toyota of Carlsbad of Carlsbad California. Under the supervision of General Manager Ivan Mendelson, Toyota of Carlsbad has reached a level of success that doesn't happen overnight. It's this type of success, one that requires endurance, that shows proven character. There's no get rich quick gimmick in this store. This is the type of dealership a customer is comfortable recommending to a friend because of their dedication to taking care of whoever walks in their door.
So how does the Insignia Accessories Selling System work for this dealer? Carlsbad uses the order management feature to communicate between sales and fixed operations, which are geographically about a mile apart. There's no risk of losing a signed paper or dropping the ball on any details. In a store that sells 375 cars a month, there's no room for disorganization or mishaps.
"Insignia has absolutely streamlined and modernized our accessory
related selling. Gone are messy handwritten due bills as well as the
Sales Departments guessing the price and installation of the
accessories we offer our guests. That is all handled legibly and
accurately by our team using Insignia."
(Dayton Dangel, corporate parts manager for Toyota of Carlsbad)
To generate interest, Toyota of Carlsbad showcases a large, beautiful service and parts store front in the service center. Accessories are a part of every department here. When you buy your car upfront, you'll have the option personalize. When you come in for an oil change, you'll be offered accessories there, too.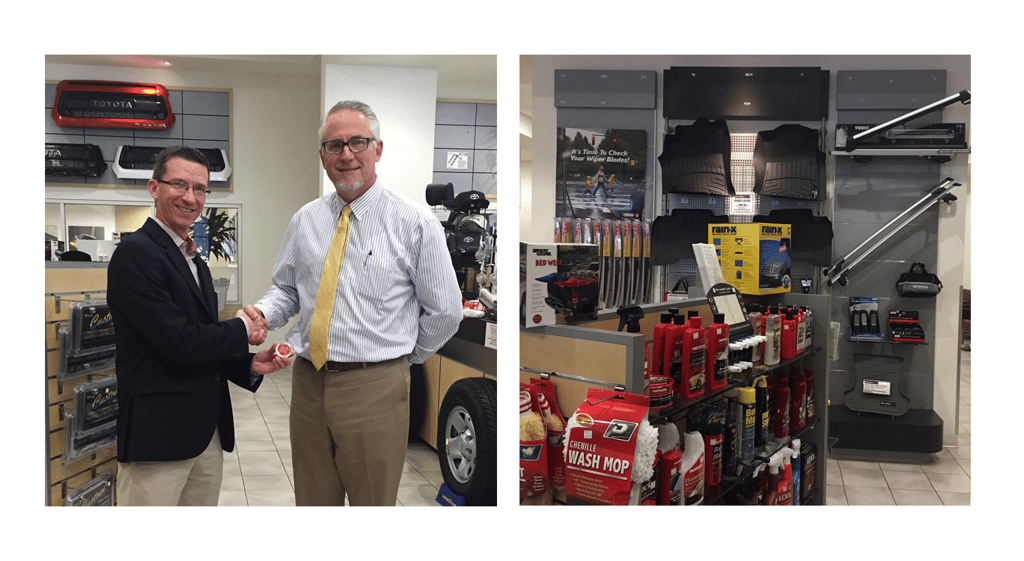 It's this type of concerted effort that rocketed Toyota of Carlsbad to the top, and made them the first recipient of Insignia Group's challenge coin. Insignia President, David Stringer, flew across the country to present Dayton Dangel with the coin, making this store the first stop in our 2016 challenge coin endeavor.