Often, prospective dealerships will ask us to provide a reference so they can get an unbiased opinion of our services. We take pride in referring top dealerships who use our system and processes with great success. Look no further than Toyota of Braintree in Braintree, MA who will surpass $10M in vehicle personalization sales using Insignia in 2016.
Accessory Manager Bill "The Legend" DeTellis put Toyota
of Braintree on the accessories map by developing a multi-million dollar vehicle personalization program in the showroom. Bill knows the Insignia system forwards and backwards and originated the "lead-in product" pitch that we teach as a best practice to other stores.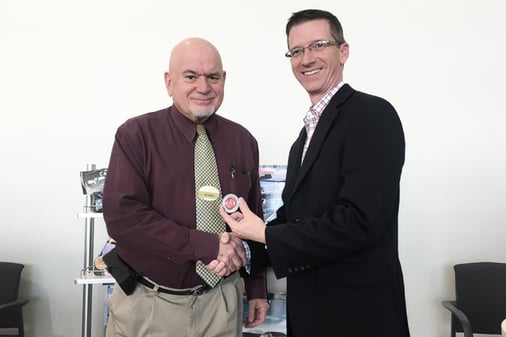 Toyota of Braintree sells between 300 and 400 cars every month and uses the Insignia system to supplement accessorized vehicles on the showroom floor and to help the customer visualize the end result on his or her own car. DeTellis notes the reporting functionality as one of the system's main advantages, and it's clear that he has a method in place that works.
"In the five years I've managed the program, we have sold over 11,000 customers almost 16,000 items with almost $10,000,000 in sales. This is money that the dealership, for the most part, would not have received," says
Bill DeTellis, Accessory Manager.
This week Insignia company president, David Stringer, traveled to Massachusetts and presented our friend and valued customer, Bill DeTellis, with an Insignia Group challenge coin. We are fortunate to do business with Toyota of Braintree and learn from their success year after year.
Over the years, Insignia Group has run a "nobody beats Bill" campaign and even developed a top ten dealer report into our system so that all customers can see who's sitting in the coveted #1 spot. Since becoming an Insignia customer, Toyota of Braintree has never dropped below #2 in the nation. Three out of the last four years, they were #1.