"This is absolutely a team effort," says General Manager Bill Niemann, surrounded by his showroom staff and accessories team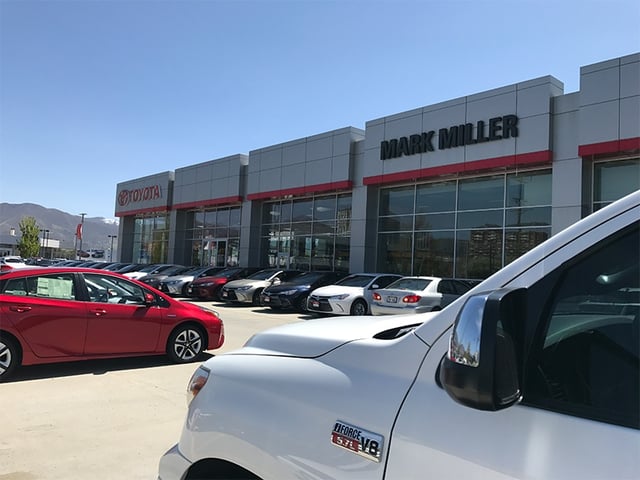 Mark Miller Toyota of Salt Lake City, Utah, reached a milestone in 2016. For the first time in the duration of their accessory program, the dealership clocked over one million in accessory sales in the showroom. Reaching this level requires diligence, and as per norm, we were interested to find out the driving force in this store. As the entire sales team gathered for the presentation of the Insignia challenge coin, the inspiring support within this store proved itself evident as the foundation for success.
As Insignia Group President, David Stringer, presented challenge coins to accessory service manager Julian Lopez and accessory sales manager Mike Fuhriman, Niemann delivered an impassioned introduction that clearly communicated the value of and his support for Vehicle Personalization in his store: (Click the link to watch the full video of Bill Niemann)
It's unusual to find the General Manager of a profitable, fast paced dealership so highly involved in every aspect of the dealership, though that is exactly what we were met with at Mark Miller Toyota. Niemann is both personable and available to his staff. He clearly knew the process for presenting vehicle personalization well enough to sit down and do it himself.
As he congratulated the team as a whole on their 2016 success, he recognized key players by name, acknowledging their abilities. He paid tribute to the task of selling cars. He verbalized that his staff was made up of good people.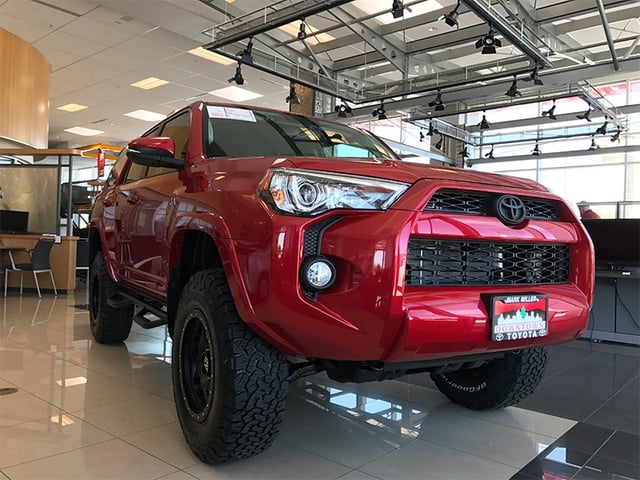 "We all need to take a moment and recognize Julian," Niemann prompts. "It's one of the toughest jobs in the store--I think you all have tough jobs."
As the team gives Julian a round of applause, Bill goes on to point out the outstanding job team leader Mike Fuhriman has done presenting and selling personalization. Without pausing, he ties in the critical importance of the sales team going the extra mile to turn each customer over to Mike. "Everybody has to participate in this deal," Niemann says. "There's some friction that comes with it."
Presenting vehicle personalization in the showroom can be a point of contention for a sales team that is hyper focused on reaching a volume goal and moving cars off the lot. Management at Mark Miller Toyota has completely eradicated that fear by first understanding the salesmen's first priority, then encouraging and celebrating their willingness to work with the accessory department for the good of the team.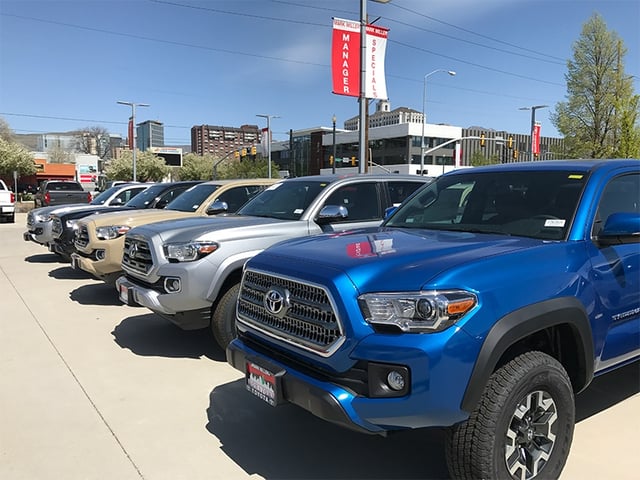 This is a store that shows genuine appreciation for their staff--and that's why they sold over a million and a half in vehicle personalization last year. When an employee or team is rallied and reinforced, a healthy and thriving environment is fostered. From that strong environment, success is born and grows.
We can all take a page from General Manager Niemann's book and roll up our sleeves to achieve prosperity. It is our good pleasure to present the team at Mark Miller Toyota with their first challenge coin as official induction into the million dollar club. We look forward to your continued membership in the club!
Want us to help you get your challenge coin? Get started here, or get our best practice tips here.