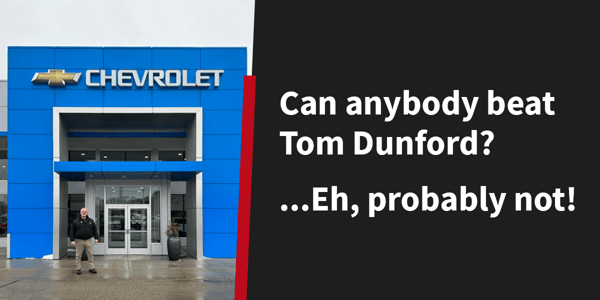 Insignia Group announced the Power User Competition in Q1 of 2022. Salespeople from across the country were invited to sign up and participate—competing to be the top accessory salesperson of the year. Out of all the competitors across the nation, Tom Dunford won every quarter and the overall grand prize.
Tom Dunford is a car sales veteran of 34 years and has spent his entire career at Rochester Chevrolet in Rochester, Minnesota.
On average, Dunford does $20-25k in accessory sales each month and says he's sold as much as $50k in a month.
"My process is to sell accessories throughout the whole sale," Dunford says. "People are spending all this money on a vehicle, and accessories are a simple way to dress it up. They're excited about it, and they want you to show them how to do it."
When asked about his strategy, Tom says it's straightforward.
"If you don't present accessories to the customer, they'll go to an aftermarket store as soon as they leave the dealership and spend $1-3k."
"I sat outside an aftermarket retailer on my day off one time. I just wanted to see the traffic that was coming through there. You wouldn't believe the number of people going there looking for simple stuff the dealership didn't offer them."
Part of Tom's strategy has been looking at the used car lot to find out what accessories people put on their cars in the past. When he sees something like aftermarket running boards, he knows he could have sold those in the dealership if they'd come to him.
With over three decades of experience selling cars, Dunford says he's seen salespeople get overly excited about selling the car and forgetting about accessories. "For one thing, if accessories aren't presented when the vehicle is being sold, you'll never sell them," Tom says. "Also, my dealership pays 10% of what we sell, and that's fluff money on the side for me. I usually do $2-3k in extra commission a month."
When asked which accessory he's sold most, Tom says it has to be running boards. "I sold 50 cars last month. Pretty much every truck left here with running boards and mud flaps. About half leave with tonneau covers and bug deflectors too."
Insignia Group would like to congratulate Tom Dunford on being the 2022 Power User Competition Winner. To learn more about how he consistently sells accessories, register for our live Q&A with Tom on Wednesday, April 5th, at 2 pm EST. We look forward to seeing you there!