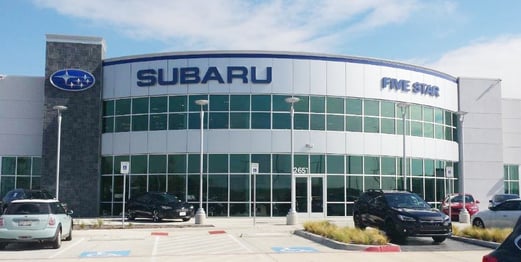 Setting Aside Time for Training Makes a Difference
Over the past year, Five Star Subaru of Grapevine, in Texas, has significantly boosted their accessory sales—a 154% increase to be exact! Five Star Subaru of Grapevine is one of our top accessory sales dealerships, and we were ecstatic to interview their parts manager, Kale Engelhardt to share how this dealership boosted its accessory sales.
Q: What is the typical amount of accessory sales your dealership does in a month?
A: "Around $30,000 in sales."
Q: Your store went from $95k, in 2021, to $243k (and counting), in 2022. What do you think helped your store reach those numbers?
A: "With a push from upper management (myself and the sales manager), we implemented training to use the system and pushed for the salespeople to present at every vehicle sale. Setting aside time to train is really important; [and], once the salespeople learned how to use the system properly it was easy to incorporate into their individual processes. Previously, the salespeople used a list of accessories to present to customers. Now, with the Insignia Group system, being interactive is much easier for the salespeople to sell."
Q: Does your store offer any incentives for customers to purchase accessories?
A: "We do, we offer our customers $200 off accessories at the time of purchase. This creates urgency for the customer to get everything they need at once, while also receiving a discount. Once they start spending money, they're more likely to spend more on what they want to fully accessorize."
Q: Do you have any advice for other dealerships out there who might be struggling with getting employees to "buy-in" with using our system to promote accessory sales?
A: "Once the salespeople are properly trained on how to use the system, they pick it up easily and it makes accessory sales effortless. The system is hands-on for both the customer and the salesperson to use which builds a stronger relationship, boosting our customer retention. Setting aside time to properly train your salespeople is the most important thing; once you've done that, you'll see success with it."
Q: What are your thoughts on the inventory shortage and what you are seeing on the floor?
A: "I think we will have more success once the inventory shortage gets better. The shortage has drastically dropped vehicle sales across dealerships nationwide; however, we've gotten creative and began selling used cars with modern accessories. Utilizing the used car market became a big opportunity for us."
Our Top Three Key Takeaways From this Interview:
Set aside time for your employees to learn how to navigate the system.
Discounts at time of purchase are extremely effective in encouraging customers to accessorize to their heart's content.
Our system's interactive approach builds customer/salesperson relationships, which improves customer retention rates.
Do You Want Your Dealership to Make Over $240k in Accessory Sales?
Our system will create accessory sales success for your dealership. Five Star Subaru of Grapevine also utilized our eLearning courses which helped them garner impressive results! Like another successful Texan dealership, Five Star Subaru of Grapevine is creating a heat wave of accessory success—and one of many dealerships nationwide that are using our system to their advantage!
Schedule a demo today, so we can help make your dealership more sales!