There is always room for improvement.
That is the attitude of the management of Sellers Subaru in Macomb, Michigan; especially knowing that customers are going to buy accessories from somewhere.
The Sellers team recognized personalization as a way to get their customers exactly what they want, while simultaneously adding value to the vehicle. Leading their zone, the dealership was content with their vehicle personalization process. That's when the dealership was chosen to be part of Subaru's Mid-West Regional pilot program with Insignia.
When management added Insignia Accessories Selling System to their showroom, General Manager Ron Redfern was a bit hesitant to take on the expense of a digital accessories system. After all, the dealership was already profiting from accessory sales and felt they had a healthy understanding of the personalization industry.
"We weren't sure if we would get the increased benefit to justify the added cost", he explains. "The value that I saw with Insignia was that it would take our manual process involving pictures of accessories, price sheets, and purchase orders to an electronic system."
Simply eliminating the paper trail benefitted Sellers by presenting the customer with a sleek, professional interface, as well as safeguarding the dealership from miscommunication or misplaced We-Owe documents.
As the staff acclimated to this new process and learned how to navigate the reporting tools within the Insignia system, something more emerged.
With the ability to track every customer deal in the system and compare it with number of cars sold, management discovered they weren't being consistent in offering accessories to every customer. Profit potential was being left on the table, and now Sellers Subaru knew where to grow.
Redfern tells us that along with the paperless system and reporting capability, this team reaps the benefits of "how easy it is for sales, service, and parts to all be on the same page on accessory pricing and sales."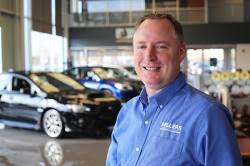 "Customers both want and need these products, so I'd rather help them get accessories designed and warrantied by the manufacturer." says Redfern
For Sellers, remote starts and trailer hitches prove to be the heavy hitters. With this in mind, the dealership is able to perfect their knowledge of these hot selling items, while also working on the presentation of accessories that receive a lot of views and don't translate into sales.
This process resulted in an average of $487.07 per accessory order in 2016. So far for 2017, the store is at a rate of $179 DIA PNUR.
"Customers both want and need these products, so I'd rather help them get accessories designed and warrantied by the manufacturer, says Redfern.
The dealership's bottom line is in agreement with this philosophy.