The latest breakthrough for Rock Hill's Insignia Group sounds as if it comes from the "Back to the Future" movies.
Marty McFly and Dr. Emmett Brown relied on the flux capacitor and 1.21 gigawatts to power their DeLorean time travel machine.
Insignia Group, a marketing consultant and software firm, is relying on its "meta-configurator" and gigabit Internet service to expand its future.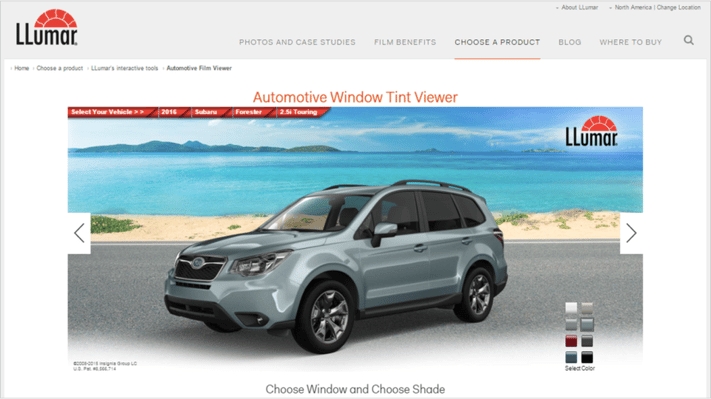 Insignia Group's first major leap forward was the recent deal with Eastman Chemical Co. and its LLumar window film for a custom meta-configurator. Eastman has deployed an Insignia Group's meta-configurator globally on its website.
The Rock Hill firm is negotiating with other major manufacturers, and other deals could be announced soon.
And, says Insignia Group president David Stringer, that's just the beginning. The principles of their configurator could be used by any industry.
What exactly is a meta-configurator?
The U.S. patent Stringer and others hold describes the meta-configurator as a way to organize meta or data – digital representations of a product with different options, from different angles – and make them easily viewed from a computer.
It's not a new process. Go to any automaker's website and you have the option of "building" or "configuring" your own new car, choosing combinations of color and exterior options.
But with many different cars and models, lots of accessories, and eight different angles – well, Insignia Group estimated for General Motors that's 2,300 unique views for just one vehicle.
"Managing the visualization of parts on thousands of vehicles, make, model, color and view angle-combinations is a monumental task," Insignia said in its patent application.
The traditional method has been to shoot thousands of photos of each car and then assemble those images in an accessible database, which then becomes the foundation for a build-your-own-car-online experience.
Insignia Group almost went that route in 2008. Stringer was looking not only for office space in Rock Hill but also a large industrial space that was big enough for a turntable to spin a full-sized vehicle for a photo shoot. In Insignia Group's case the photos would have been the basis for showing how thousands of after-market accessories would look on vehicles. The company has been a leader in accessory sales process consulting.
They found an office, but not space for an industrial photo studio. They decided to see what was possible with an existing wheel configurator that showed potential buyers how different wheels looked on their vehicles.
Stringer said their wheel configurator was cumbersome. It sometime took hours to download and was difficult to update. Nonetheless, "it was a smashing success."
In 2008 Insignia "stopped, hired people and took our time," Stringer said. "We had to find a clever way to manage vehicles, parts, submodels, all the different accessories," he said.
By 2010 they realized they might be on to something, and they filed for a patent.
"It was a watershed moment for us," Stringer said.
Insignia Group's meta-configurator process often starts with computer graphic images of cars. It also uses popular, tried-and-true software programs to create a "scaleable and manageable architecture," Stringer said, admitting even that's a "somewhat technical answer." For those wanting more details, go to the U.S. Patent Office website and search for patent No. 8,566,714.
What sets Insignia Group apart, Stringer says, is the ability to adapt to changing computer technologies, keeping their product current and not tied to a specific program.
Insignia Group's success is not only good news for the company but also for Rock Hill's efforts to become a new "tech" center, attracting more companies with cutting-edge technologies.
Insignia Group has not only been a supporter of that effort but a benefactor as well.
The company has supported the Knowledge Park Technology Incubator, a partnership among the city, Clemson University, Winthrop University and York Technical College. When it came to understand the potential of their meta-configurator and possible new markets, the company got help from the incubator.
Insignia Group's meta-configurator is on display this week at the SEMA Show in Las Vegas, the premier automotive specialty products trade event that draws the industry's brightest minds and hottest products to one place – the kind of place where the flux capacitor meets the meta-configurator.
For the moment, that won't happen. The Eastman LLumar window film meta-configurator lists 23 cars from 2013 through 2016 year models, but not the DeLorean. The last of about 9,000 DeLoreans rolled off the assembly line in December of 1982.
Author: Don Worthington
View the orignial article in the Rock Hill Herald here