For the average automotive marketing agency, car buyers can officially be categorized as online and in-person buyers. Thanks to digital retailing, the opportunity for a person to begin and end their entire buyer's journey without setting foot into a dealership is becoming more common. In 2020, 30% of the vehicles purchased were online!
So, Insignia Group decided to research what type of marketing is really pulling in the masses. Yes, vehicles are a necessity and won't truly dwindle in sales due to loss of demand, though who gets the bulk of that revenue is mainly determined by the marketing efforts put forth by OEs and their stores.
How Are They Buying?
Part of marketing to car buyers, whether as a dealership or an OE, is to know who is buying, what they're buying, why they're buying, and how they're buying.
No matter the brand, the typical demographics of car buyers are that they are between the ages of 25-55, and most SUV buyers bring home more than $100k or less than $50k; most Truck buyers bring home less than $50k, and most sedan buyers bring home less than $50k. It's also pretty close in gender demographics, with a slightly higher skew towards males.
So, within this age group, how are most car buyers purchasing these vehicles? One of the biggest changes in the last three years is the number of online purchases. Previous to 2020, online purchases (whether hybrid or fully online) were 10% of total sales. After 2020, online purchases jumped to 30% of total purchases and have maintained those numbers. While some people still blame Millennials for basically anything that has to do with people between the ages of 13 and 29, Millennials are actually in the age range of 27-39 and have some of the most considerable buying power in the country. That same generation, and all the others after, expect the ability to purchase everything online (65% of them!). Any dealerships that hope that Millennials will accept the status quo will die out to those who make the necessary changes.
While most brands are safe from direct-to-consumer sales for new vehicles due to franchise laws, the used car market is in for more pain if they are not using digital retailers to sell online.
What Are They Buying?
Knowing who is buying the vehicles is only part of a good marketing strategy. You also need to know what they are buying.
Over the years, the popularity of SUVs has skyrocketed. As a result, SUVs are the most Googled vehicles for sales research, with pickup trucks, compact cars, and sedans following in descending order. It's good to note that the searches for SUVs are double those for trucks!
SUVs and trucks are the top two vehicle models and the most frequently accessorized vehicles. Unfortunately, many dealerships attempt to take advantage of selling accessories with their vehicles (both new and used) and rely on outdated methods that can't even be used with online customers!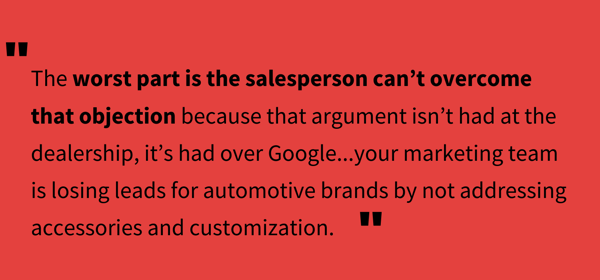 You might be wondering how accessories have anything to do with marketing. The truth is that they have everything to do with it. People aren't loyal to brands anymore; they are dedicated to getting what they need based on budget and lifestyle. So guess what? They might have a VW Tiguan and want to size up to an Atlas with leather seats and realize it's out of their budget. They won't give up on buying a car. They'll jump brands.
If Nissan markets that their Rogue can have leather seats added and it's still less money than the Atlas, VW may have just lost a customer for not advertising the customer could add leather to the base model. The worst part is the salesperson can't overcome that objection because that argument isn't had at the dealership; it's had over Google and with a list called "Most Dependable 2022 SUVs" that shows the Nissan Rogue as only a few points behind Atlas and $10k less in price. The marketing team is responsible for those lost leads.
Don't believe accessories influence leads and car sales? Accessories have been proven to influence more than 1 million new vehicle sales a year, and that's only accounting for the lower number of dealerships that actively outfit showroom vehicles in accessories. That does not include the forecasting for the growing number of dealerships pushing more accessories during the vehicle shortage. In addition, 65% of customers are influenced by customized vehicles they see in showrooms and online, which means more leads and more revenue for the automotive industry.
Automotive OE Marketing
OEs do have some in-house marketing, though they tend to use automotive marketing agencies for bigger campaigns and if they span a more global presence. An excellent automotive marketing agency will know that the OE marketing they do will impact the global dealership advertising that is also done. So, you have to be aware of that impact before strategizing some new options.
You aren't looking at keyword searches for Mazda brands in Cleveland, Ohio. You are looking at Mazda searches for the whole of the USA and all the query modifiers that come with it! One of the most significant modifiers to any brand is accessories. "Genuine VW accessories," "Mazda cx-9 seat covers", and "Subaru hitch kit" are some of the most commonly searched terms outside of the vague ones like "best vehicles for families" or "most reliable SUVs"—which we will get into later.
As a digital automotive marketing agency or in-house team, the most significant marketing points are design, data, and relevance. Just because the marketing for that OE has always been a specific way doesn't mean it needs to stay that way. Be innovative and always double-check that the data and relevance of any content or ads support the company's goals.
The biggest marketing tool in your toolbelt is design/visualization, especially in the age of digital marketing strategies! For example, 40% of consumers are likely to purchase a vehicle based on images without seeing the car in person. Images are everything. There are whole companies out there devoted to getting the best stock images of vehicles. There's a reason for that! Your focus should be on using visuals to the advantage of the OE that employs you.
To do so, you need to know what people are looking for (the data) and a way to show it in as few words as possible. As established earlier, the most common search modifiers for vehicles are accessories/parts (most sold right at the dealership), so how do you make customers realize these things? The first is making sure your content includes visuals of vehicles and accessories that match the intent of the search. For example, if 300,000 people a month are searching for "best vehicles for families," make sure to create content that answers that question or partner with research sites like Edmunds to get on the list they likely already created. At the same time, give them options! Break that query down into different budgets or lifestyles. Big families, small families, families who go on frequent road trips, families with pets, etc.—all of these can be filled within a specific brand of vehicle and their models. The higher the budget, show the more expensive trims. Show some middle trims with more accessories for the middle-of-the-road budget such as leather seats, all-weather mats, cargo organizers, and tablet holders attached to the back of seats. Building out visuals and content with each of these potential vehicles will make customers feel informed like they have plenty of options within this one brand, and the dealerships or OEs will boost revenue quickly. Most brands already have accessory packages (base camp edition, night edition, etc.). Take it further and make sure customers know they can customize to their heart's desire.
OE automotive marketing is really trying to bring leads to the brand on a national level and then send out those leads based on the consumer's location. It's easy to accomplish this from the national level with accessory software with buildable visuals and an easy way to distribute those images/packages/pricing to their franchises. That software already exists and can even be a great partner for automotive marketing agencies to get those images for the content they create.
Dealership Advertising
If you skipped the reading for the OE marketing because you're looking for car dealership marketing ideas, we suggest you go back and read it. The biggest takeaways are that you need to focus on visuals/design, data, and relevancy.
As a dealership, you can limit your research to about 100 miles from your dealership, and you will have to be aware of what your competition is doing within that range. So with that in mind, here is what you need to know.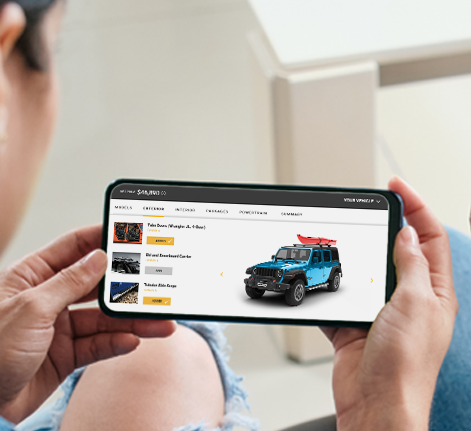 Visual
Consumers are visual. That's it. Whether you are doing digital marketing or sending mailers out, you have to have a design to it. Consumers are 30-50% more likely to interact with your ads, social media, website, and blogs if they have clear visuals. Cox Automotive also found that 40% of buyers are likely to purchase a vehicle based on online images without ever seeing it in person. So, knowing your audience will go a long way in bringing those leads to your internet sales team or regular sales team! As more car buyers want to do online shopping, it's going to be imperative that digital marketers use the right visuals and content to attract those shoppers.
Data & Relevancy
Because your customers are local (roughly anywhere from 10-100 miles away), you need to use keywords and local data. For example, if you're in Texas, most people probably aren't looking for winter tires. So you need to know what people are searching for in your area by using tools like Google Keyword Planner and other audience listening tools.
Some hard-hitting data for you is that the searches for "brand + model + accessory" are 6-7 times higher than "brand + model" when car buyers are doing research. You can either ignore all of those leads for your dealership or use them to scale exponentially.
Your data should be influencing the topics, paid ads, social posts, and more because it reflects the relevancy of what you're trying to achieve. Writing blogs, search engine ads or social media posts should always come from data. If you are writing content just to do it, you're doing it wrong. For example, it's a lot easier to avoid having a pricing objection from a car buyer by convincing them that they are making the best investment to fit their needs rather than starting at pricing and going from there. The leads you hand off to the sales team will be much warmer and have fewer tire kickers if you give the car buyers value. Write blogs about the best vehicles for big dog owners or the top 5 cars for people who love snowboarding. Find out what the population around you likes to do for fun and write for them!
Conclusion
The bottom line is that the world is changing. In-person car buying will not go away overnight, though the OEs and dealerships that avoid catering to online shoppers will. As a marketer, it is your job to find the customers where they are (mainly online) and convince them to contact your dealership or one of the OE's franchises. Don't be afraid to mention new possibilities with better visuals or ones that have more accessories on them for all your content in the next year! At the very least, you can send this guide to anyone who thinks accessories and visuals are not as essential as pricing and ask them to let you try it for six months.
For more information about accessories and visual marketing, check out our
blog posts
or some of our
success stories
.