Our Insignia Group API is connected with your digital retailer and our system allows your dealership to customize pricing, increase sales, and improve customer retention. Because we've partnered with your digital retailer, our API allows your dealership to sell accessories online with a 3D interactive configurator.
Save Dealerships from Pricing Errors
If your car dealership doesn't have the Insignia Group Accessory Sales System (separate from the digital retailer), then all online pricing is OEM national standards (including labor rates) instead of your dealership's unique labor rates and packages.
Not showing customers your unique pricing costs the dealership time, energy, and resources—including inconveniencing customers enough to make them request discounts or give a low CSI score.
Increase Sales
Using our system helps car buyers have an easier time purchasing accessories online, and saves your dealership time and resources. With more than 55% of U.S consumers preferring to shop online, providing this option opens the door for more customers.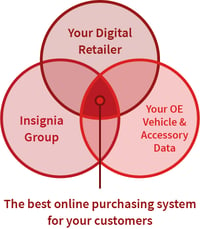 It increases online sales by creating an easier and more enjoyable user experience. In a case study, it was proven that dealerships that can process online purchases sell 40% more than those without. With accessories now available to your online customers, your dealership will see more revenue from them, as well as in-store.
Improve Customer Retention
Existing customers are 300% more likely to purchase than new customers. The easier the process, the more likely customers are to come back. Customers that have purchased vehicles prior will run at the opportunity to easily accessorize their vehicle and will tell their inner circle about it. Give your returning or newest customers all the options at their fingertips, while your competition weeps into their wallets.
Get started today to give your customers all the options they want!