"4Real Visual API" is more than an image. It's a consistent, affordable, and visually appealing system to host your vehicle accessory needs.
Advantages of the 4RealVisual API for Manufacturers, Softwares, Distributors, and More:
Easy plug-and-play approach for visuals.
Expansive catalog with high-quality, interactive 3D vehicles and accessories, filtered by fitment and vehicle trim/year.
Bring your digital retailing solutions to the next level, pictures aren't enough.
Data management for manufacturers, distributors, restylers, and OEs so you never have to find another excel sheet trapped away in a laptop somewhere.
Parts Builder for new accessories or content you don't have ready to syndicate immediately.
Visual and data syndication that can be sent to any other software or distributor you work with (Ebay Motors, Walmart.com, Amazon, Dealership website builders etc.).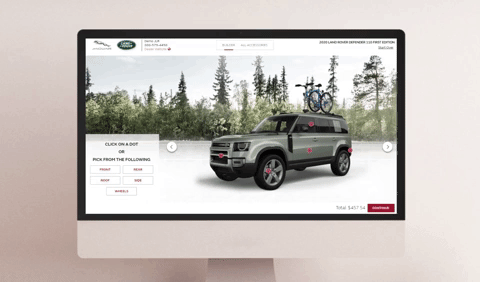 "4Real Visual API" is only one part of the substantial package offered by our APIs; there is also "4Real Content API". Our 4Real Content API provides data management and implementation. With more than 20 years of knowledge, we can help streamline your accessory sales process.
Benefits of the "4Real Content" API for Your Dealership Customers:
Storage and management for your dealership-specific data, pricing, and other pertinent information.
Entire accessory catalog for many manufacturers, including both internal and external accessories.
Customizable, dealership-specific pricing keeps your customers happy no matter what they need or where they are located.
Direct integration with your current software.
In an increasingly digital world, it's time to make sure that you offer your customers the best user experience possible!