The product team is like Santa's elves—tinkering behind the scenes all year long to bring you good tidings of profit and joy. That sleek digital interface that makes your client feel like a kid on Christmas morning has a whole crew backing it. It's time we gave the product team the standing ovation they deserve for all that button pushing, configurator spinning, report generating, artistic goodness they serve us. Meet the team!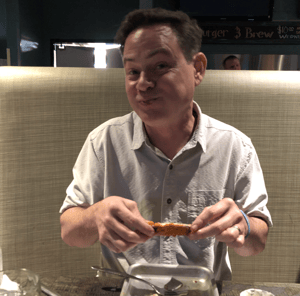 James Brooks | The Backpacking Artist
Chief Product Officer, vision casting, ship driving, maintenance man with an art degree. Hailing from the Appalachians, our resident Renaissance man now makes his home in Rock Hill with his wife Robin, three kids, and a small zoo. James loves to create, dabbling in woodworking and science experiments. In his free time, you might find him exploring the woods, kayaking, observing hissing cockroaches, chopping trees for his projects or leading the Boy Scouts. Basically, James is a character from Jumanji. As one who enjoys the finer things in life, James appreciates a good pairing—chicken wings and the pursuit of bourbon barrel aged stout beer. When James isn't creating, he's likely to be planning a hiking trip in Peru that Robin hasn't yet agreed to.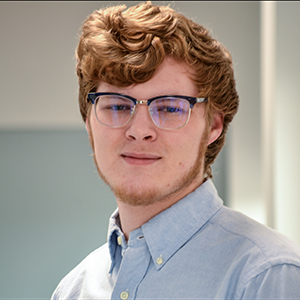 Tanner Crocker | Tech Mogul in training
Junior Software Developer today, Elon Musk tomorrow. Tanner has a background in computer science, a knack for coding, and is good at being smart. Tanner is the type of guy to take a 3D printer apart, figure out how it works, why it works, and invent a better one with one hand. He isn't all wiring and data though, he's part human too. When Tanner isn't beating all the levels of all the computer games, he enjoys Asian food of all types, punk rock and electronic music, and his lap cat, Gracey. If you see him running Google one day, just remember we knew him first.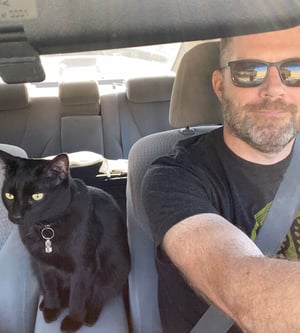 Kevin Robbins | The Coding Hipster
Senior Software Engineer Kevin Robbins is effortlessly cool, full of surprises, and could probably code his way out of a tin can. Kevin's multifaceted coding background is a heavy contributor to the overall end-user experience of the Insignia platform. While he enjoys the job now, this type of work wasn't always on his radar. Kevin grew up in a world without the internet, wanting to be a veterinarian—until he realized there was blood involved. Lucky for us, he settled on adopting a cat. He may be a self-proclaimed computer geek but don't let the stereotype fool you. Kevin spends his free time exploring Charlotte with his running club, sampling every brewery both mainstream and obscure, and enjoying the arts—mainly live music and Broadway. He's even on a first-name basis with Snoop Dogg and the late Brittany Murphy! Well sort of—he checked them each into an NYC hotel once.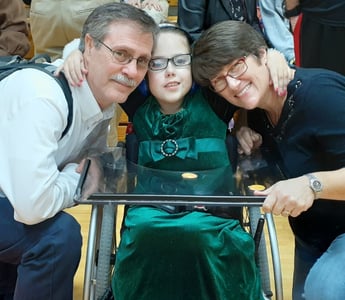 Ray Goodwin | Special Agent
Our Principal Software Engineer has such a high security clearance, Ray may not even be his real name. Trained by the Marines in MOS 2621 - Signals Intelligence (SIGINT) and Communications Intelligence/Electronic Warfare Operator, Ray then went on to college for Electronics Technician. Ray and his twin brother were raised on the family farm in Missouri and he's since lived all over the nation, thanks to the Corp. These days, most of his free time is spent with his best friend of 31 years, Abi, and eldest granddaughter, Arianna, in their St. Petersburg home. A creature of habit, Ray's favorites are meat and potatoes or potatoes and meat. He also enjoys oldies music, particularly the Temptations, and doesn't have a favorite color because...he can't see them.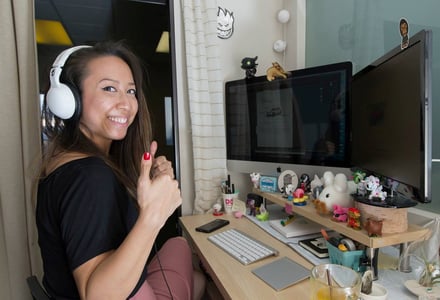 Sauksata Vongsouthi | The Cultured Nomad
Descended from Laos, raised in France, educated in Virginia, started a career in Georgia, then settled in the Carolinas—our Art Director keeps her suitcase well worn. Sauksata makes a habit of traveling to a new place once a year to learn about other cultures and try new food. For now, she calls Greensboro home and is planning her wedding in between weight lifting, plant nurturing, bird watching, reading, and puzzle working. She's also known to do some serious home organization, Marie Kondo style, creating and recreating an inspiring environment. Sauksata says she loves her job because, in addition to design, it requires research and problem-solving that she finds very fulfilling.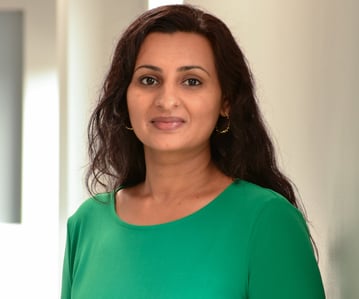 Sukhdeep Thind | The Dancing Analyst
Our Quality Assurance Analyst is multifaceted in every sense of the word. Holding two bachelor's degrees, mother of two sons, trilingual, and with dual citizenship, Su's contribution to the team is also doubly vital. It's her ability to find issues with a fine-toothed comb that results in the seamless interface you know and love. Growing up, her childhood was split almost evenly between the early years in India and youth in California. Now residing in Indiana, Sukhdeep is a student of Punjabi folk dance along with her husband and children. She highly values her rest and has been known to sleep through a good movie.
Thank you, product team, for all you do!